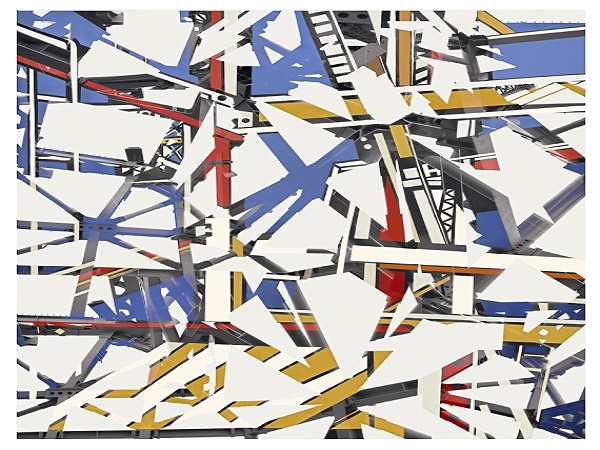 From the series "Les Nouveaux Constructeurs, Fondation Vuitton" - Photo n°1 / 2019; Credit: © Stéphane Couturier
Luxembourg-based advisory firm Arendt & Medernach has announced that French artist Stéphane Couturier's exhibition "Transmutations" is now on display at Arendt House (41 Avenue John F. Kennedy) in Luxembourg-Kirchberg.
According to Paul di Felice, the curator of this exhibition, Stéphane Couturier has had an interest in buildings, construction sites and architecture, which he deconstructs and then recomposes in his photographs, since the 1990s. After his initial "façades" series, he quickly moved towards a more artistic and archaeological approach to photography.
In his first series, "Archéologie urbaine" (1996), Stéphane Couturier updated the successive strata of urban transformations by focussing on the materials and colours in photographic fragments. In "Melting Point" (2004), he then turned to amalgamation, bringing greater formal fluidity rather than linear rigidity to his compositions. In the artist's own words: "Rather than successively capturing different views of observed reality, the idea is to get as close as possible to the pure sensations you notice during your wanderings, juxtaposing two viewpoints in the same photograph".
In his approach, which goes beyond that of a photographer keen to present a truthful image, Stéphane Couturier likes to place his concept of photography at the intersection between documentary, artistic, photographic, urban and sociological creation.
"Transmutations" is currently on display at Arendt House, where it can be viewed on Saturdays and Sundays from 09:00-18:00, until the end of February 2020.
The exhibition is organised by Café Crème édition&médiation.