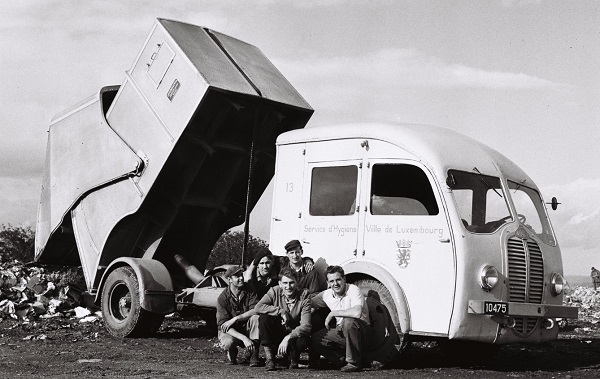 Hygiene service in Cessange; Credit: Photothèque, VdL / Tony Krier
On Monday, the Ville de Luxembourg (VdL) opened a photography exhibition to celebrate the 120th anniversary of its Hygiene Service.
The exhibition, launched in Place Guillaume II in the presence of Patrick Goldschmidt, Alderman responsible for the environment, and Marc Weber, Head of the Hygiene Service, presents some twenty black and white photos illustrating the daily tasks of the staff and the evolution of the various professions related to the cleanness of Luxembourg City.
The Hygiene Service dates from 18 March 1898 when the VdL acquired a plot of 7.31 hectares on Route d'Arlon, where there was a dump, warehouses and stables. Following a decision of the municipal council, waste management was entrusted to VdL staff, which has remained in charge since January 1899. After a first expansion of the infrastructure in 1901, the old depot of latrine tools was also transferred to Route d'Arlon.
In the 1920s, the Hygiene Service experienced a first major modernisation: in 1921, structural changes were necessary and the construction in 1928 and 1929 of new and more appropriate offices and workshops increased the efficiency of the Service. In 1931, the City of Luxembourg became one of the first European cities to acquire closed rubbish vehicles and provided residents with standardised containers of 60 and 90 litres to replace the rubbish buckets previously used. In 1967, he Hygiene Service introduced synthetic bins before adding wheels between 1982 and 1984. Since 1981, waste has been collected weekly in the capital, whose population has almost doubled since then. In the 1980s, the VdL also set up the first major public collection points for recycling and, in 1987, it opened a recycling centre on site on Route d'Arlon. In addition, in 2010, the VdL introduced brown rubbish bins for biodegradable waste.
In the beginning, in addition to urban cleanliness, the Hygiene Service was in charge of piping, septic tank emptying and funeral management. Over time, these tasks have been entrusted to other municipal services and the tasks of the Hygiene Service have evolved to include the cleanness of the public space, the collection of residual mixed waste, biodegradable waste and recyclable materials and snow removal in winter, as well as raising awareness of waste reduction among citizens.
The Hygiene Service currently employs 340 people and has 135 machines, including 36 waste collection lorries. In order to improve its service to customers and better protect the environment through efficient waster sorting and recovery, the Service is currently planning the construction of a new site with a resource centre to open in the next few years.
The free exhibition will run until 31 May 2019.