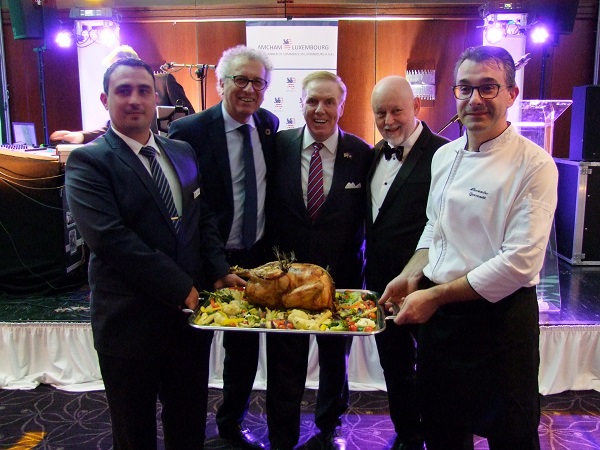 AMCHAM Thanksgiving 2019;
On Friday evening, the American Chamber of Commerce in Luxembourg (AMCHAM) held its traditional Thanksgiving Dinner at the DoubleTree by Hilton in Luxembourg-Dommeldange with 200 members and guests attending.
Paul Schonenberg, Chairman of AMCHAM, delivered a welcome address and explained that Thanksgiving is a centuries-old tradition based around giving thanks for the harvest. He reflected that it is very important for all of us to appreciate living and working in Luxembourg and giving thanks for it. The attendees included a mix of both members of the International community also with Luxembourgish hosts, and, included for the first time, allocated tables of graduates of the three American universities in Luxembourg, plus no less than eight corporate tables.
He said that usually AMCHAM holds a Christmas lunch with Luxembourg's Minister of Finance, Pierre Gramegna, as guest speaker but, as this year's December calendar was too crowded, AMCHAM decided to invite him to the Thanksgiving dinner instead. Also in attendance were the Ambassadors from the US, Japan, Germany, Italy, the UK, Poland and Ireland.
He thanked POST for being the principal sponsor for the 6th year in a row, with a number of other corporate sponsors involved this year too.
He also highlighted the American Stand at the International Bazaar, the first bazaar of which was held in 1961, and currently comprises stands from 61 countries: this year's international event takes place on the weekend of 30 November & 1 December.
The US Ambassador to Luxembourg, Randy Evans, thanked Paul Schonenberg and AMCHAM for their invitation and organisation of this year's Thanksgiving dinner, and recalled meeting Luxembourg's Minister of Finance, Pierre Gramegna, soon after arriving in Luxembourg just over a year ago, and mentioned the shared values between both nations.
He mentioned that this year is the 75th anniversary of the Battle of the Bulge and that he looks forward to commemorating this on 16 December in Luxembourg. He recalled that some 20,000 people made the ultimate sacrifice; what the US did was done in the name of freedom.
He also recalled numerous anecdotes from the past 12 months, including the highlight of Buzz Aldrin coming to Luxembourg in July and talking about walking on the moon. He concluded by wishing all present a blessed year ahead and gave thanks for democracy, freedom and independence.
For his support of the international community in Luxembourg, and championing its case, Paul Schonenberg presented an Award and a Swarowski crystal bull to Minister Gramegna, who thanked Paul Schonenberg personally. He talked about people and family: people make a difference, and he singled out the US Ambassador, Randy Evans, and Guy Demeuser, who he referred to as a "living legend" in Luxembourg's international diplomacy circles.
Minister Gramegna said that we are blessed with peace in Luxembourg, but he himself does not take it for granted, and thanked America for its part in realising peace in Europe, for which many, many people gave their lives. He mentioned first and foremost the EU as a "peace project". He asked where would Luxembourg be without the EU and NATO; to whom would the financial centre sell its services? He wished that the UK will not leave the EU, regrets the decision and said that he would welcome back (to the EU) the UK any time, to which those attending applauded in approval. He mentioned that Luxembourg is the only EU Member State to renounce its language being an official language of the EU; instead we (Luxembourg) take this as a positive in that we speak the language of those we are doing business with and the language of those to whom we are selling services.
The Thanksgiving dinner menu comprised pumpkin soup, roast turkey (for which a formal presentation was made with the speakers) with cranberries and sweet potatoes, plus apple pie for dessert.
Before the dancing and music which continued into the early hours, a tombola was held with 28 prizes including flights.