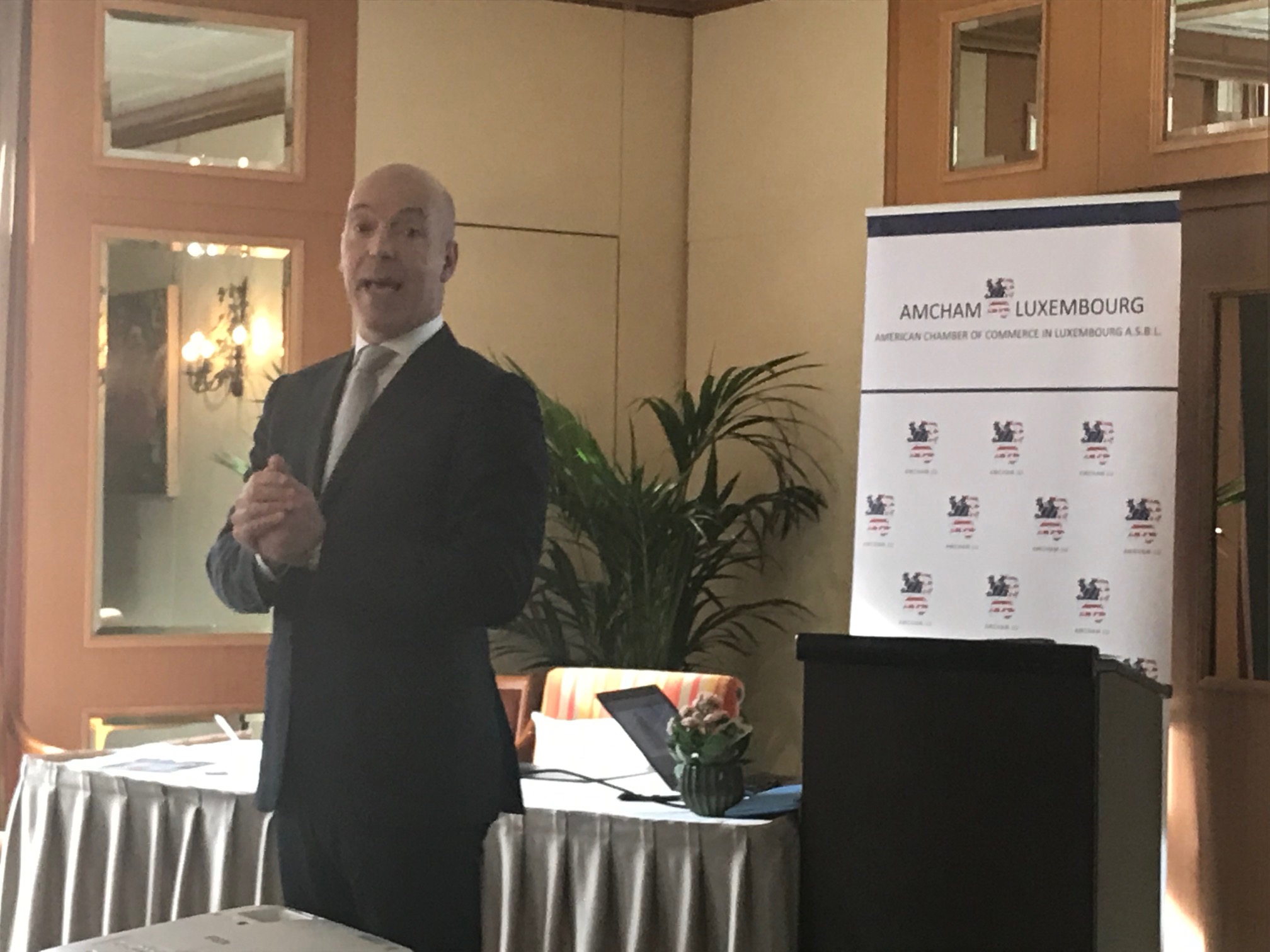 Benoit Kuborn, presenting at Amcham;
On Monday 4 February 2019, the American Chamber of Commerce Luxembourg (Amcham) held a lunchtime event on the topic of "5 Star Customer Service" with guest speaker Benoît Kuborn at the Hotel Parc Belair.
Paul Schonenberg, Amcham Chairman, welcomed the circa 50 members to AMCHAM's first lunch meeting of the year. He stressed the benefits of networking and welcomed new members in particular to the AMCHAM event.
Benoît Kuborn explained that he wanted to present his ingredients for his recipe for success to be for attendees to deliver a five-star success in event organisation, whether it be in the finance sector or another.
He asked the questions What is important in your Eyes? and How do we deliver a five-star service? Also, how do we retain customers? How can you be the champion of service and deliver the "gold medal"?
1. Eye contact, smile and phraseology
2. Needs matching - fulfilling your customers' needs (Basic; expect; Nice surprise; incredible - the Wow! effect), including what does your customer value?
3. A customised service, e.g. a "pillow menu" - a layered approach to service provision; personalising the customer experience from check-in (e.g. monogrammed pillow cases with your initials, including one to take home)
4. Transform the process into a customer experience (a standard operating procedure), to create a memorable experience
5. Guest feedback is gold - listen to your customers; walk in the shoes of your customers; live the experience from your customers' eyes - examine the feedback from your customers (email request by emails post stays normally give an 18% response rate; he has instead asked guests while still at the hotel for ONE idea on how to improve the service)
6. Attention to Detail
7. Make an Effort - make your guests feel like they are walking the red carpet
8. Engage with your guests
The underlying question he asked to summarise his presentation was "How do you increase the experience of your customer?". He explained that little things can have a huge impact and can get your customers to become ambassadors of your brand.
Drawing on his international five star hotel experience, Benoît Kuborn founded Kuborn & Partners, specialising in training and consulting in the hospitality and service industries with the aim of optimising customer satisfaction. He delivers training on Service Excellence and Customer Experience and also on Sales Excellence, and teaches hotel management in the MBA programme at the Champagne School of Management. His main clients in the hospitality and travel industry include Hyatt & Lotte in Russia, Fairmont in Azerbaijan, Radisson and Relais & Châteaux in Slovenia, Kiev International Airport, Luxair (Luxembourg Airlines), LuxAirport (Luxembourg airport) and the Mondorf Thermal & Wellness Centre in Luxembourg. His clients in the banking and financial sector include PWC, EY, BIL, Citi, Degroof Petercam, Catella and Kneip.