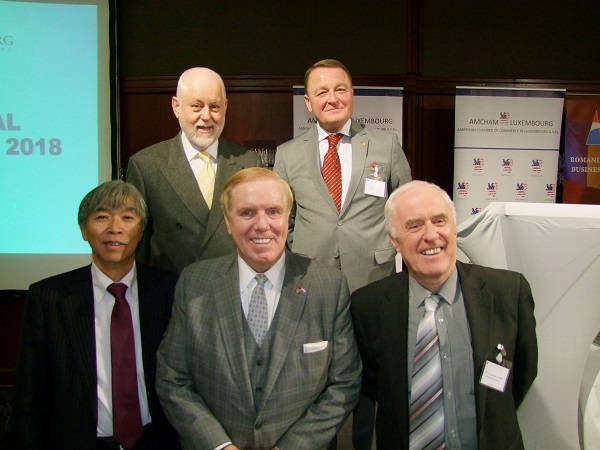 AMCHAM christmas Lunch 2018 (top, L-R): Paul Schonenberg, AMCHAM Chairman; Bernard David, Deloitte Luxembourg; (bottom, L-R): Japanese Ambassador; J Randolph evans, US Ambassador; Peadar Carpenter, Ambassador of Ireland;
On Wednesday, the American Chamber of Commerce in Luxembourg (AMCHAM) held its annual Christmas Lunch at the DoubleTree by Hilton in Luxembourg-Dommeldange, with Luxembourg's Minister of Finance, Pierre Gramegna, as guest speaker.
Paul Schonenberg, Chairman of AMCHAM Luxembourg, welcomed the 200+ members and guests, as well as the ambassadors from the United States, the Republic of Ireland and Japan, plus a number of leading figures from the corporate world in the Grand Duchy.
The Ambassador of the United States of America to Luxembourg, J Randolph Evans, recalled discussing an ambassadorship with the White House and described Luxembourg as a wonderful opportunity in a beautiful country. However, his arrival coincided with major political issues such as Brexit, the Russian-Ukranian issue, etc., all of which require briefing papers. He also mentioned (in reference to yesterday's incident) that he had hoped to visit Strasbourg with his wife; but things change. He wished everyone "Happy Holidays" and said "it's going to be ok", and referred to the good news of the new government in Luxembourg starting a new 5-year mandate.
After the meal, Minister Gramegna said that he would start off by addressing the good news. Tongue-in-cheek, he said that 2018 was a great vintage for wine, and for Luxembourg politics (referring to the outing coalition being re-elected). He stated that there are a couple of major issues for Luxembourg, including keeping its triple-A rating, and that Luxembourg remains competitive. There is a cross-party consensus that Luxembourg should remain competitive, and he said that there are three major measures for 2019 in relation to taxation: the 2019 tax rate will be 1% lower than in 2018; SMEs will appreciate that corporate tax rate of 18% will be replaced by a tax rate of 15% for companies of revenues up to €175,000 (threshold up from €25,000) and, if the effective tax revenues increase, then net tax rates will be reduced across the board.
Also, the minimum wage for Luxembourg will increase by €100/month next year as the cost of living is high; he explained that this will funded by government tax credits. On social peace, there will be no strikes - this he explained is based on continuous dialogue.
This is an outline of the government's framework on finance and economy for the programme of government.
On the issue of free public transport, a topic that has seen much coverage in international press, he stated that there is one major estimation behind the decision. He said that the public transport ticket revenue covers just 10% of the public transport operational costs, so the amount to be found to be funded is just the extra 10%. In addition, more money will be invested in security - he referred to yesterday's incident in Strasbourg which highlights how fragile the situation is.
On Europe, growth is around 2%, and has been witnessed in all Eurozone countries; however, there are some warning signs to the future global economy, including threats to international trade agreements. He referred to the recent financial crisis which evolved into an economic crisis, which was in effect a crisis of confidence which affected investment. As a result, the whole world grew less. "Let's work on open markets and making sure goods and services are as open as possible - this is the "engine for growth"".
He confirmed that growth in Luxembourg this year is around 3%, and for next year the estimate is the same. Unemployment is close to 5%; "so it all looks reasonably good". Last week, parliament opened again, and yesterday the Prime Minister presented the Programme for Government, which is being discussed today and tomorrow. As a result, there is a limited legislative programme for the rest of the year. They will however, vote on the government's budget for the next four months and the anti tax avoidance directive. He concluded by stressing that integration will be addressed later in the year and will apply to the entire year, a statement that drew much applause.
Pierre Gramegna, Luxembourg's Minister of Finance