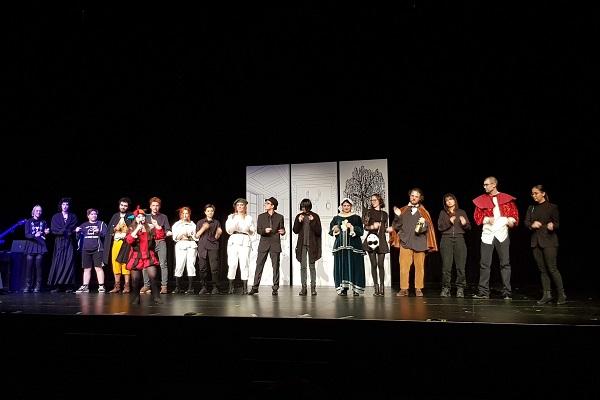 Twelfth Night; Credit: Jazmin Campbell
The second edition of Luxembourg's Festival of English-Language School Theatre, also known as FEST, kicked off in Friday evening with a reception and two performances at Mierscher Kulturhaus in Mersch.
At the reception, the Mayor of Mersch Michel Malherbe, the British Ambassador to Luxembourg John Marshall and FEST organiser, BGT co-founder and director Tony Kingston delivered the opening speeches, during which they thanked everyone who had supported the festival.
In his speech, Ambassador John Marshall stated that the British Embassy was pleased to contribute once again to this initiative following the success of the first edition. He added that he was "hugely proud of the English language" and "thrilled" that young people in Luxembourg, for many of whom English as neither their first, second or even third language, could "discover more about the language through theatre". The British Ambassador added that he hoped this love of the English language would further inspire Luxembourg's youth to consider the UK as a potential destination for higher education after secondary school. He recalled that despite some changes to EU-UK relations in the coming months, the quality of the British education system remained unchanged.
Similarly, Tony Kingston remarked that he was "always impressed" by the quality of performances from all the young people involved in what was often their fourth or fifth language. He added that he was impressed by the level of English language skills overall in Luxembourg. Tony Kingston concluded that theatre in any language helps young people develop confidence among other important life skills.
Other attendees at the reception included FEST committee members, participants and support staff, as well as the US Ambassador to Luxembourg, J. Randolph Evans, and members of the press. Volunteers from the Luxembourg branch of the NGO Asociación Manos Abiertas (AMA) were also on hand to serve food and drinks at the reception, during the interval and during the first night festival party after the performances.
The opening performance, an adaptation of William Shakespeare's "Twelfth Night" by Lycée des Arts et Métiers, attracted a full house. Under the direction of Mike Goergen, Lynn Peters and Kenny Schank, a group of talented students offered their own witty take on the Shakespearean classic in "Twelfth Night, or What You Will… But Quick". Cast members stepped in at times to interrupt and deconstruct - with a touch of humour and sometimes song - this traditionally confusing story for a contemporary audience.
Following the interval, many spectators remained, and others joined, for the second performance, this time a short dramedy by Bradley Hayward performed by students from European School Luxembourg-Kirchberg. Directed by Tony Kingston, "I Don't Want to Talk about It" addresses several issues facing young people (and indeed all of us) today through the story of schoolgirl Kylie and her classmates. The play, which features moments of both humour and heartfeltness, served to highlight the difficulties that can arise from a lack of communication: frustration, isolation and even suicide.
The second edition of FEST continues today and tomorrow with several performances taking place at Mierscher Kulturhaus. For the full programme, visit https://www.fest.lu/.
Tickets cost €24 / €12 (students) per block of performances (Block B: Saturday 7 March from 14:00; Block C: Saturday 7 March from 19:00; Block D: Sunday 8 March from 14:00). A Festival Pass for all performances costs €60 / €30 (students). Tickets are available from www.luxembourg-ticket.lu.