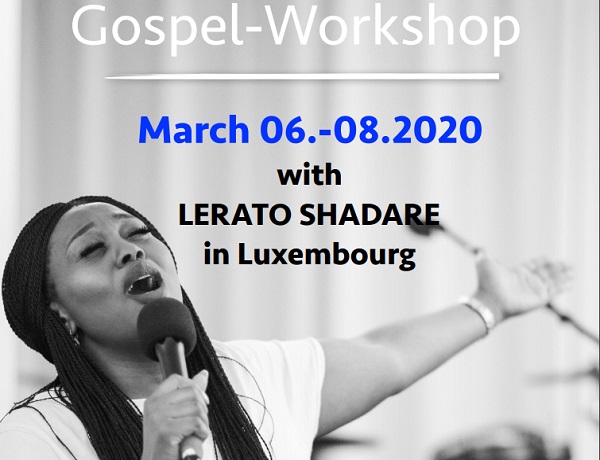 Gospel4Luxembourg has announced that the English-speaking Catholic community is hosting a gospel workshop with singer Lerato Shadare from 6 to 8 March 2020 at Église Saint-Alphonse in Luxembourg-ville (32 Rue des Capucins, L-1313 Luxembourg).
Born in Johannesburg, Lerato Shadare began her internationally successful career in the South African choir "Joyful Celebration". Her first performance in Germany, as Rafiki in the "The Lion King" musical was already met with praise from the audience. Her talent and unique voice continued to bring her to large and well-known theatres and concert halls, as she made a name for herself throughout Europe.
Lerato Shadare currently works as a vocal teacher / coach and leads two gospel choirs: "50 Voices Groove" and "Leviticus Gospel Choir".
Her gospel workshop in Luxembourg will be held on Friday 6 March 2020 from 19:00-22:00 and on Saturday 7 March 2020 from 10:00-17:00. On Sunday 8 March 2020, participants will perform learned songs during mass at 11:15.
Participation costs €60 for adults or €45 for 13-16 year-olds and groups of at least twelve people. For further information or to register for the workshop, contact Gospel4Luxembourg via email: gospel4luxembourg@gmail.com.