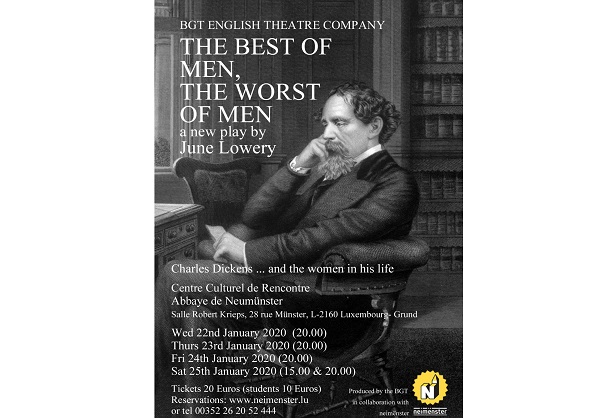 The BGT English Theatre Company will present its next production, "Charles Dickens – the Best of Men, the Worst of Men", at the Abbaye de Neumünster (Salle Robert Krieps) in Luxembourg-Grund from 22-25 January 2020.
Charles Dickens, the celebrated English writer and social reformer, had a private life worthy of his own stories. The author inspired and betrayed, adored and abused the women he encountered. In this new play, directed by Tony Kingston and based on an original script by June Lowery, the women who knew and loved Charles Dickens tell that story. His female relatives and friends, including his wife and teenage mistress, consider whether Charles was the best of men… or the worst of men.
Designed by Karl Pierce, the play stars Bjørn Clasen, Jessica Whiteley, Cassandra Koehler, Kim Birel, Helena O'Hare, Elizabeth Adams, Rachel Kathryn Lloyd, Josie Shillito, Lindsay Wegleitner, Eloise Heger-Hedløi, Sabrina Fernandez, Tiara Partsch and Cristina Owens Fernandez.
Performances are scheduled for Wednesday 22 January, Thursday 23 January and Friday 24 January at 20:00, as well as on Saturday 25 January 2020 at 15:00 and at 20:00.
Tickets cost €20 or €10 for students and can be reserved online at www.neimenster.lu or via tel.: 262-052444.