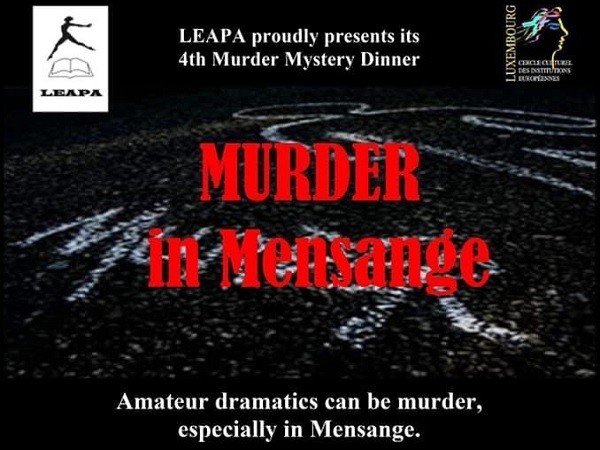 The Luxembourg European Association of Performing Arts (LEAPA) has announced that it is organising its 4th Murder Mystery Dinner on Friday 17 June 2022 at 18:00 at the Novotel in Luxembourg-Kirchberg (6 Rue du Fort Niedergrunewald).
"Murder in Mensange" sees the return of a murder mystery dinner event format for the first time since the pandemic; it takes the form of a play by Amaranth Briarball from a theme by Karen Ince and is directed by Chris Wilson, performed live during a three-course gourmet buffet meal.
Tickets cost €55 (dinner with soft drinks) or €65 (dinner with soft drinks and wine) for members, or €65 / €75 for non-members; those who book and pay by 30 April 2022 can avail of a 5% discount.
Reservations by email: info@leapa.eu.
Dress code: smart; tables of eight or ten.