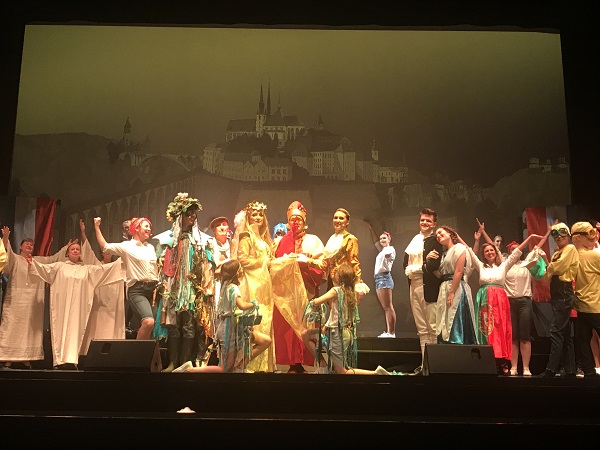 Melusina panto;
Chronicle.lu got the opportunity on Wednesday evening to attend the dress rehearsal of Pirates Productions' "Melusina", the original pantomime written and directed by Rachel Parker.
A musical comedy in the traditional British pantomime style, Melusina is suitable for all the family with jokes for both adults and children, plenty of song and dance and a cast of colourful characters. This time the story is based on the Luxembourg legend of Melusina...
In Rachel Parker's original script, Melusina (Rachel Kathryn Lloyd) is a half-human, half-water spirit, who starts life under a mysterious curse that gives her a fishtail once a week. She falls in love with the nobleman Count Siegfried/Siggy (Jennie Elizabeth Kenton), but the curse catches up with her and she vanishes into the dark. The Count and friends have to find her and the search takes in many characters - good and bad spirits, villains from foreign lands, witches and ghosts as well as a troupe of female builders and willing but foolish little yellow helpers, among others. Will they find Melusina? And even if they do, will they be able to solve the riddle and rescue her?...
The traditional panto dame, in this case Josephine / Jo, is played by Frazer Alexander, with Steve Wilkie as De Kropemann, Alex Teligadas as Mr Groschlecht (a baddie, looking and acting like like Uncle Fester from The Addams Family), Patrick Taylor-Kielty as Jean, Mike West as Jempy and Eva Puc as the Girl Baddie, supported by a 35-strong ensemble of both adults and younger players.
Act 1 opens with the prologue shortly after the birth of Melusina which introduces a spirit and explains the curse. The backdrop is very clerverly used with images projected to illustrate where the on-stage action is taking place, leaving the entire space on the large stage . The first song "The land of make believe" then ups the tempo with wonderful, bright and colourful costumes and terrific vocals, getting the audience immersed immediately and totally.
Gradually the main cast members are all introduced, with Melusina and Count Siegfried meeting early on, then the panto dame makes an appearance with her opening monologue, traditionally part improvisation to get the audience warmed up properly. By now, some of the dialogue contains a lot of both direct and indirect Luxembourg references. Then we have the dame's family and panto horse, the poor peasants and the rich nobles, the baddies (the NASTYS) and.... some Minions! So the stage is all set for some good old slapstick and chaos on stage.
The storyline follows the ups-and-downs of Melusina and Siegfried, aided and abetted along the way by all the other characters. Later on we get to see Biship Willibrord too, as well as up-to-date political characters in Boris and Jacob, with a couple of Brexit jokes thrown in for good measure, along with some dancing nuns, more baddies and witches too, with fun poked at national sterotypes from neighbouring countries. And there are castle dungeons and plenty of other settings for the heroes and villains to do battle, and yes, there is a fight scene too!
The sound quality at the Kinneksbond venue is nothing short of superb, no matter where in the audience you may be sitting. This certainly helps get the most out of the wonderful songs, many of which are well-known with a high tempo and are delivered to perfection. With audience participation encouraged from the off by Frazer Alexander's outlandish dame, some of the songs also encourage the audience to singalong. With "We're on a road to nowhere", Queen and David Bowie's "Under Pressure" and "Luxembourg" sung to the tune of "Dancing Queen" to name but a few...
The 10-piece orchestra is led by Musical Director, Eric Gherardi, with Dominique Vitali (Choreographer) and Neil Johnston (Assistant Director) also holding crucial positions behind the scenes along with many, many others covering makeup, costumes, props, hair & makeup, lighting & sound, publicity, etc.
This is a must-see event in Luxembourg's international community's cultural programme! For the young ones, it may be the first time they are introduced to Melusina, Count Siegfried, St Willibrord and other characters from Luxembourg's rich history, including the golden Lady herself! How Rachel Parker manager to fit all this into one panto of 2 acts and 13 scenes is quite remarkable.
Don't forget your copy of the programme - in addiiton to the usual cast profiles and ads, etc., there is a stunning centrefold photo of all those involved in the production - simple, but so effective.
Performances take place on Thursday 7 November and Friday 8 November at 19:30, on Saturday 9 November at 14:30 and at 19:30, and on Sunday 10 November at 14:30. Tickets cost €25 for adults or €12.50 for students and children (show recommended for children over 5 years old). For further information and to book tickets, see https://www.pirateproductions.lu, e-mail: tickets@pirates.lu or tel: 356339. Some performances are already sold out!