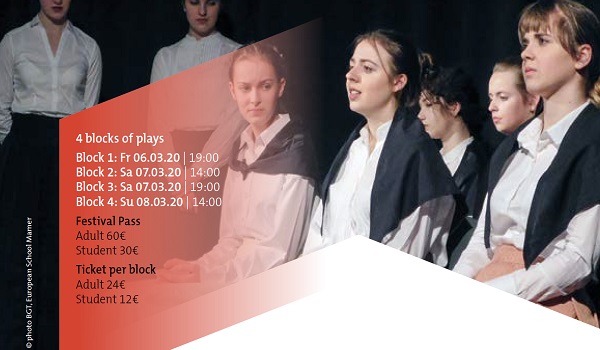 Credit: BGT/European School Mamer
Following the success of its first edition in 2018, the Festival of English School Theatre (F.E.S.T.) will return to the Mierscher Kulturhaus (53 Rue Grand Duchess Charlotte) in Luxembourg next March.
Held once again under the patronage of the British Embassy in Luxembourg, the F.E.S.T. 2020 will run from Friday 6 to Sunday 8 March 2020. This unique festival will give audiences the chance to enjoy a wide variety of stimulating and entertaining plays and to support the vibrant young talent active in Luxembourg.
During the festival, a selection of short (45 minutes each) English-language plays will be performed by groups from schools in Luxembourg and will be open to the public. The festival of one-act plays will highlight some of the excellent English-speaking and artistic talent which exists among pupils in Luxembourgish schools, but which often passes unnoticed by the wider public.
With English becoming more and more important as the language of communication and business, the need for children to use it actively has become a crucial life skill. Several secondary schools around the Grand Duchy have in recent years augmented their normal English classes with English theatre options or extracurricular activities. These school programs give the students a chance not only to improve their language abilities by using it practically on the stage, but also to develop their presentational skills and their self-confidence while learning about theatre arts.
The first edition of the festival, held in 2018, saw over 100 students from ten school groups and classes from around Luxembourg present a collection of stimulating English-language plays, performing to more than a thousand spectators.
There will be four blocks of plays: one on Friday 6 March 2020 at 19:00, two on Saturday 7 March 2020 at 14:00 and 19:00 and one on Sunday 8 March 2020 at 14:00.
Tickets for the festival cost €24 per block for adults or €12 for students. A festival pass costs €60 for adults and €30 for students. Tickets are available online at luxembourgticket.lu or via tel.: 470-8951.