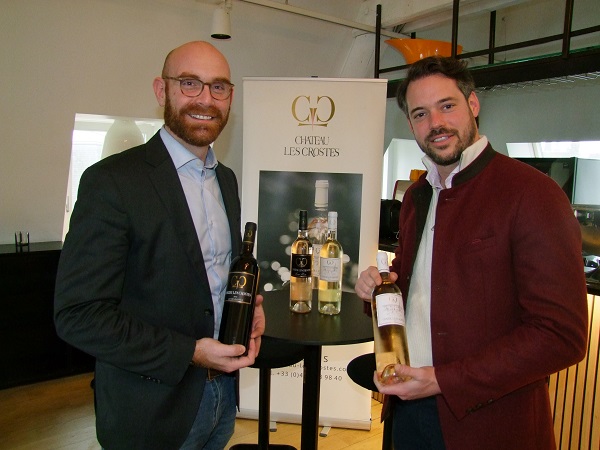 (L-R) Antoine Clasen, Bernard-Massard; Prince Félix; Credit: Chronicle.lu
On Thursday 23 February 2023, His Royal Highness Prince Félix of Luxembourg launched his new vintage of wines in collaboration with Bernard-Massard at Tero House 17 in Luxembourg-Ville.
Prince Félix introduced the Château les Crostes which is produced at his and his wife Princess Claire's château located in Provence which he explained has a deep history in wine-making in France. In the late 20th century, in 1956, the vines were destroyed (by temperatures as low as -20C over three weeks) and were completely replanted, producing mainly red and white wines. His father-in-law purchased the château and grounds, which are often used for big events such as weddings, as well as wine production. Nowadays, the winery produces annually around 350,000 bottles, with an emphasis on light rosé wines, which Prince Félix plans to increase to 400,000 to 450,000 bottles over the next five years, mainly by the process of replanting (new vines start to be ready for harvesting after three years).
He stated that 2022 was a very good year, both in terms of quality and quantity; however, he recalled that both 2020 and 2021 were poor years, with 20% of the vines frozen.
They cultivate Syrah, Grenache and Cabernet Sauvignon grapes for the soft and aromatic red wines, and Cinsault and Grenache that provide the fresh, elegant and very pale rosés.
In addition, they have an olive grove on the estate with around 180 trees which produce around 300 litres of olive oil annually,
Antoine Clasen, Director of Bernard-Massard, explained that his company is responsible for importing and distributing the wines in Luxembourg.