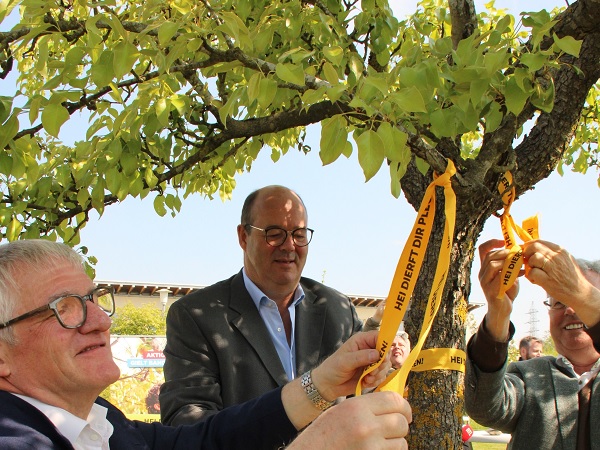 Yellow Ribbon Campaign Launch; Credit: MA
On Wednesday, 27 April 2022, Claude Haagen, Luxembourg's Minister of Agriculture, Viticulture and Rural Development, and Emile Eicher, President of the Syndicat des Luxembesge luxembourgeoises (Syvicol), launched the 2nd edition of the anti food waste campaign entitled "Gielt Band - Hei dierft Dir plécken" in the municipal railway in Schifflange (rue de Hédange).
In this orchard, the first cherries, mirabelles, plums, apples, pears... all fruit trees in flower announced the arrival of the fruit-growing season and thus marked the start of the new campaign with the harvesting of cherries in the month of June.
The concept is simple: if a yellow ribbon is attached to a fruit tree, personal use / harvesting is allowed, thus encouraging member of the public to help avoid that hundreds of kilos of fruit may fall on and under the trees and go to waste.
In this context, Minister Haagen pointed out that the campaign also supports two goals, actively combatting food waste and making use of local fruits, whether they are perfect or imperfect.
Emile Eicher rejoiced at the solidarity of municipalities, saying that as of today 40 municipalities are supporting the action and that 3,500 trees have been marked with yellow ribbons.
Accelerator blow to the fight against losses and food waste
Following the success of the inaugural 2021 edition, Minister Haagen will take part in the initiative this year for private individuals, associations and fruit tree owners' companies. "In the current context, in the context of armed conflicts, sanitary crises and climate change, it is more important than ever to continue to raise awareness and mobilise as many people as possible against food waste," he added.
In addition, the Ministry of Agriculture and Viticulture and Rural Development has financially supported the new online minett-biosphere.com map of the PRO-SUD intercommunal union.
Another pilot project, "Tutti Frutti", has recorded the exact location of 74 municipal orchards in the Minett Unesco Biosphere and the 17 varieties of fruits found. In his intervention, Paul Weimerskirch, Mayor of the Ville de Schifflange, and member of the PRO-SUD Committee, pointed out that the Gielt Band operation valued themes on the biosphere reserve, leading to sustainable nutrition.
The yellow ribbons for the public or private fruit trees can be ordered free of charge online via www.antigaspi.lu.