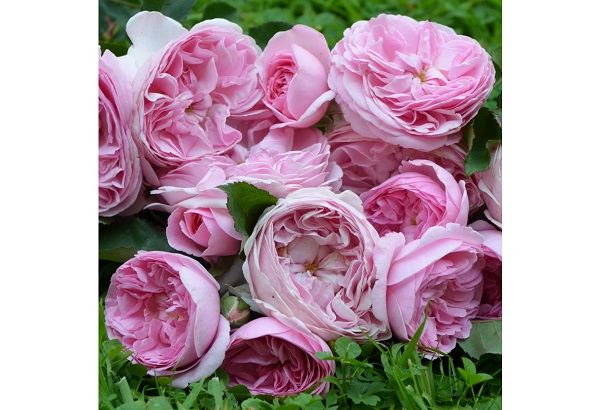 "Prince Guillaume, Grand-Duc héritier de Luxembourg" rose; Credit: Mela Rosa
The non-profit organisation Patrimoine Roses pour le Luxembourg today named a new rose variety after His Royal Highness Prince Guillaume, Hereditary Grand Duke of Luxembourg.
The new rose "Prince Guillaume, Grand-Duc héritier de Luxembourg" created by French breeder Jean-Lin Lebrun is a generous variety with a romantic style. According to the non-profit, its well-drawn flowers in a perfect rosette, with many petals sporting a refined fresh pink, reveal a small central green eye. Their beauty is reminiscent of ancient Portland roses. The plant flowers profusely from June until the first frost. It reaches a height of 120-150 cm and can even be grown as a small climbing rose. The balanced fragrance is a sweet blend of old rose with hints of myrrh.
Founded in 2003 by Monique and Jean-Lin Lebrun, Mela Rosa nurseries are nestled in the small village of Grigny (Pas-de-Calais, France). Specialists in old regional varieties of fruit trees, the couple gradually developed a passion for the creation of natural roses, adapted to cold temperature and resistant to diseases. Among their varieties is the "Bonjour à Luxembourg" rose (2003).
Luxembourg, formerly known as "land of roses", regularly dedicates new varieties of roses to members of the Grand Ducal family. Back in 1891, the renowned Luxembourg breeders Soupert & Notting dedicated four new rose creations to the family of the first Grand Duke of the Nassau-Weilburg dynasty: Grand Duke Adolphe of Luxembourg. A great lover of roses, Grand Duke Adolphe regularly visited the rose growers of Luxembourg-Limpertsberg to choose the roses to dedicate to members of the Grand Ducal family. To date, around 20 Luxembourg roses have been named after members of the Grand Ducal family.