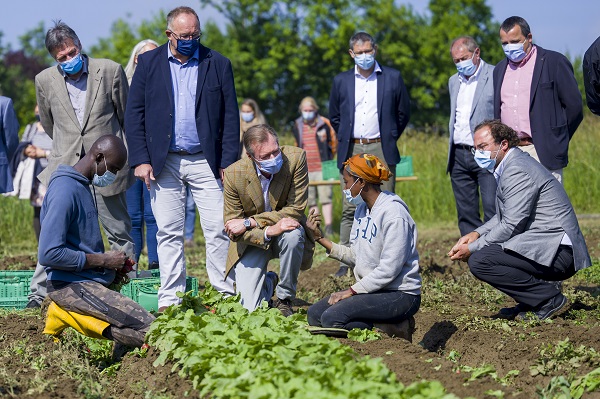 L-R: Cris, Bio-Gärtnerei staff member; Änder Schanck, Oikopolis Participations SA; Romain Schneider, Agriculture Minister; HRH the Grand Duke; Yao, Bio-Gärtnerei staff member; Willy Noesen, Bio-Gärtnerei Manager; Credit: SIP / Jean-Christophe Verhaegen
On Friday 25 June 2021, His Royal Highness the Grand Duke, accompanied by Luxembourg's Minister of Agriculture, Viticulture and Rural Development, Romain Schneider, visited the organic vegetable farm "Bio-Gäertnerei op der Schanz" in Altrier, a village in eastern Luxembourg.
On this occasion, Grand Duke Henri and Minister Romain Schneider met organic vegetable farmers Willy Noesen and Jeff Weydert as well as Änder Schanck, founder and Chariman of Oikopolis Participations SA, before going on a tour of the production sites.
Bio-Gäertnerei op der Schanz produces vegetables on an area of ​​more than 13 hectares. Willy Noesen is the manager of the Bio-Gäertnerei, whilst Jeff Weydert, operator of Fromburger Haff, has developed the production of organic tomatoes in greenhouses on a larger scale. The two market gardeners supply their vegetables to the wholesaler Biogros. Consumers can also buy fruit and vegetables in Altrier.
The Grand Duke and Agriculture Minister expressed an interest in these organic farming practices, which use very modern techniques. In order to increase the species richness, nesting boxes for birds have been hung up. A few beehives have also been installed. The energy supply mainly comes from solar energy and a wood chip system for heating, whilst rainwater collection ponds provide part of the irrigation of the fields.
During the visit, the producers also informed the Grand Duke of their grievances regarding access to water and greenhouses, which are vital to the development of the fruit and vegetable sector.
Luxembourg's Minister of Agriculture, Viticulture and Rural Development highlighted that Bio-Gärtnerei op der Schanz is fully in line with his vision of a sustainable and qualitative "agriculture+", in which conventional and organic agriculture coexist. He concluded that "our farmers produce high-quality local products and more and more informed consumers are currently looking for direct sales places that guarantee quality, short circuits and sustainability".