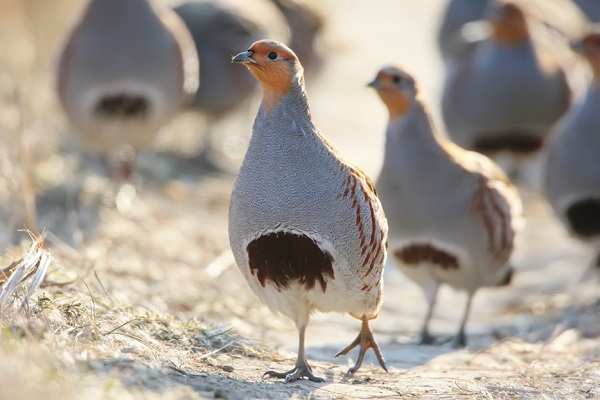 Grey Partridge (Below: Bird of the Year sticker); Credit: Adobe Stock / Volodymyr Kucharenko
The natur&ëmwelt a.s.b.l. has announced that the grey partridge is Luxembourg's bird of the year for 2021.
The grey partridge has always been part of the agricultural community in Europe. It was the characteristic bird of the rural landscape, as it is ideally suited to fields, which is also reflected in its Luxembourgish name "Feldhong" (field bird). Landscapes with hedges, country lanes, meadows and pastures, fields of cereals and potatoes as well as fallows form this bird's typical habitat. As these varied landscapes have become increasingly rare, the bird is now on the red list of endangered species. Only 60 years ago, the population in Luxembourg was estimated at over 6,000 pairs - today there are only ten to 20. This is one of the reasons this gallinaceous bird was chosen as bird of the year.
Flourishing landscapes are essential in order to give another chance to the remaining pairs of grey partridges Luxembourg. According to natur&ëmwelt, the only way to stabilise the population is to take several measures at the same time, such as the existing regulation on biodiversity in agriculture. Farmers who participate in this programme and develop, for example, field borders or floral fallows receive a subsidy of between €870 / ha and €1,150 / ha. This not only helps the bird of the year, but also all other field dwellers such as insects, skylark, lapwing, quail and pheasant.
Every year, the bird of the year is also addressed in schools through the "Schoul an Natur" (school and nature) campaign. This week, cycles 3 and 4 in primary schools will receive a brochure from natur&ëmwelt which provides information on the grey partridge. An educational file with many game instructions will allow teachers to present this bird in class. With the collaboration of the Luxembourg National Museum of Natural History (Naturmusée), natur&ëmwelt was able to design a large poster that all pupils can use.
These documents, in German, can also be obtained from the Maison de la Nature in Kockelscheuer. For all bird lovers and collectors, the gray partridge sticker is also available here; it is now the 44th sticker with the image of the bird of the year.
The brochure and the file containing game ideas, a quiz and a colouring page are also suitable for home schooling and can be downloaded from the educational section of naturemwelt.lu.