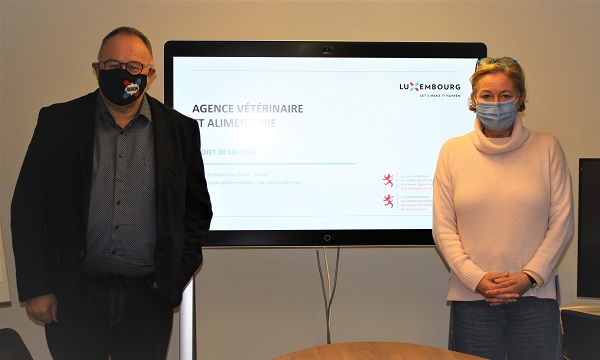 L-R: Romain Schneider, Luxembourg's Minister of Agriculture, Viticulture and Rural Development; Paulette Lenert, Minister of Health; Credit: MSAN
Luxembourg's authorities have announced the creation of a "Veterinary and Food Agency", a single administration aimed at strengthening the efficiency of controls throughout the food chain and simplifying procedures for operators and administrations.
The future Veterinary and Food Agency will bring together all the activities of the three administrations and services involved in the control of foodstuffs in Luxembourg (the Administration of Agricultural Technical Services' animal feed service, the Veterinary Services Administration and the Health Directorate's Food Safety Unit) as well as the coordinating body (the Government Commissariat for Quality, Fraud and Food Safety).
The establishment of this agency, which will be placed under the authority of the Ministry of Agriculture, Viticulture and Rural Development, is the last step in an approach originating in an audit commissioned by the Luxembourg government in 2015. Whilst the audit, in its conclusion in 2016, highlighted the quality of the controls and analyses carried out by the various bodies, it also identified several avenues for improvement, such as pooling the departments concerned, setting up criminal and / or administrative sanctions in the event of infringements and bringing domestic law into conformity with European law in this area.
An immediate response to these recommendations was a physical merger of the various departments in 2017 in Strassen. This was followed by the establishment of a Commissariat for Quality, Fraud and Food Safety in charge of coordinating the control operations of the various services of the three administrations (in February 2019), an intermediate stage in the implementation of a single administration bringing together the different skills of food safety control as well as the fight against food fraud.
With the establishment of the new Veterinary and Food Agency, the Ministries of Health and of Social Security are starting the final stage of merging the various organisations and administrations in charge of controlling the food chain.
This agency will enable the government to remove the entanglement of political and administrative competences and to decisively and permanently simplify the organisation of official controls of the food chain by guaranteeing the operational independence of the new entity, while enhancing its efficiency.
According to the Agriculture Ministry, the creation of a veterinary and food agency is at this stage a bill (No. 7716) which Minister Romain Schneider tabled on 19 November 2020 in the Chamber of Deputies. The legislative process must now follow its path until the vote on this bill, after which the agency will be set up in Luxembourg.