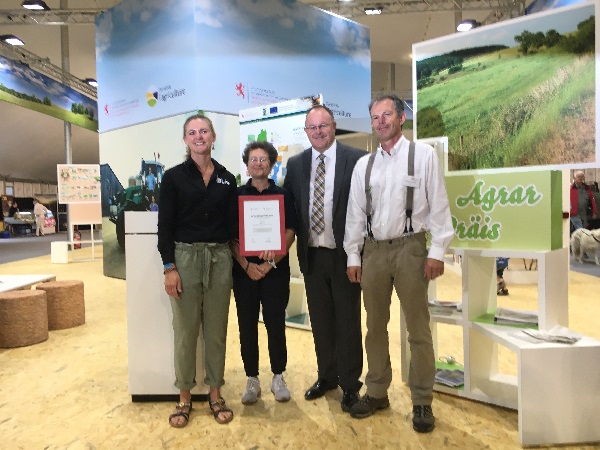 L-R: Steffi Zimmer (Director of IBLA); Monique Decker (ASTA, Ministry of Agriculture); Romain Schneider (Minister of Agriculture, Viticulture and Rural Development); Claude Felten (President of IBLA); Credit: Ministry of Agriculture
On Sunday 7 July 2019, in the presence of a large number of visitors, Luxembourg Minister of Agriculture, Viticulture and Consumer Protection, Romain Schneider, presented jury prize of the "Bio-Agrar-Präis" for organic farming initiatives to the "Institut für Biologësch Landwirtschaft an Agrarkultur Luxemburg IBLA".
In his speech, Romain Schneider paid tribute to the IBLA's commitment and its contribution to organic farming in Luxembourg through its many research projects, especially in the field of legumes, as well as through its guidance services for farmers.
This special eleventh edition of the award saw the jury launch a look back on the past years in cooperation with the previous winners from the years 2009 to 2015. Nine participants among the fourteen eligible candidates submitted an application file detailing the evolution of projects or efforts for which they had been rewarded in recent years. A jury, composed of ten members from different backgrounds, chose the winner based on the submitted application files.
The "Bio-Agrar-Präis", awarded for the first time in 2009, aims to reward merits in organic farming. This award, with a prize of €4,000, is intended for individuals, organisations and companies active in the organic farming sector (production, processing, trade, research, NGOs, etc.) or having given special support to organic farming in Luxembourg.
The award is part of the National Action Plan for the Promotion of Organic Agriculture, which aims to actively support the development of organic farming in Luxembourg. This year, a new version of the pan will be developed; its priorities will be the funding of various research projects as well as the development of the network of demonstration farms.