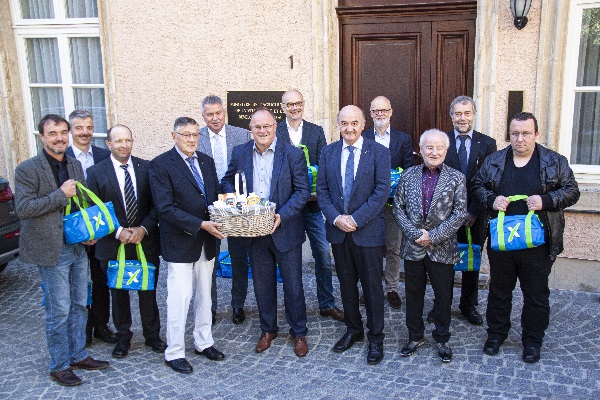 Romain Schneider, Minister of Agriculture, Viticulture and Rural Development with representatives from the dairy sector; Credit: Ministry of Agricultues (MA)
This Saturday 1 June 2019, Luxembourg will celebrate World Milk Day with an event promoting local dairy products in Place Guillaume II in the capital.
Today, on the eve of World Milk Day, Luxembourg Minister of Agriculture, Viticulture and Rural Development, Romain Schneider, received representatives of the Lëtzebuerger Verband fir Molkereifachleit an Mëllechwirtschaftler (LVM) association and the Luxembourg Union of Graduates in the Dairy Industry.
On this occasion, Minister Schneider and the dairy industry representatives had a constructive exchange centred around the dairy sector, which is one of the main pillars of Luxembourg agriculture. Indeed, the sector has experienced a very positive evolution in terms of diversification, especially in the field of processing.
Romain Schneider emphasised the importance of World Milk Day, held on 1 June, which aims to remind the public of the value of dairy foods, while conveying a positive image of Luxembourg agriculture. The Minister also thanked the LVM committee for the organisation of the dairy promotion event that will take place this Saturday 1 June 2019 in Place Guillaume II/Rue du Fossé in Luxembourg City, which "will allow the public to discover the quality of Luxembourgish dairy products in the capital's market square".
In this context, the Minister also recalled that, in the area of ​​milk promotion, the annual organisation of the "Milk Week" in basic education has been a real success story in the Grand Duchy, having enabled 3,000 pupils to visit more than 70 dairy farms in December 2018.
In addition, the LVM representatives met with the Mayor of the City of Luxembourg Lydie Polfer along with alderwomen Simone Beissel and Isabel Wiseler-Lima and alderman Patrick Goldschmidt. They took advantage of this occasion to present both Minister Schneider and the Mayor and aldermen/alderwomen of the City of Luxembourg with a basket of dairy products.