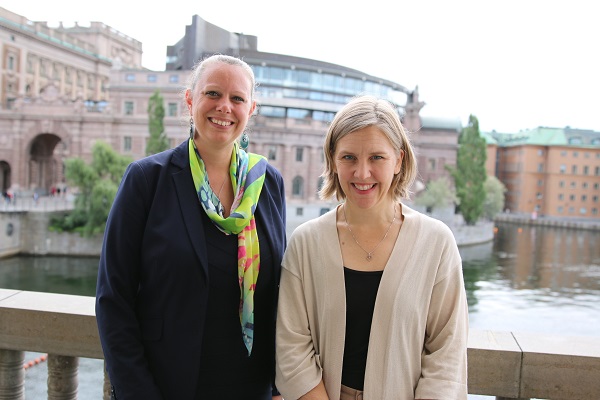 Credit: Sweden's Ministry of the Environment
Between 5 and 7 September 2017, Luxembourg's Minister for the Environment, Carole Dieschbourg, paid a working visit to Sweden; while there, along with Ambassador Janine Finck and a delegation of officials from the Ministry of Sustainable Development and Infrastructure, they had a series of bilateral meetings on environmental policies.
The Luxembourg delegation met with Katarina Luhr, the environmental councilor, and inquired about Hammarby Sjöstad, an eco-district on the southeastern outskirts of Stockholm. It is a project to convert an industrial site, which perfectly integrates circular economy and resource protection objectives into its planning. Minister Dieschbourg also visited an energy recovery plant in Henriksdal. In this plant, the wastewater is fermented and converted into biogas - or biomethane - and then used to heat homes or serve as fuel for city buses. At the invitation of Ambassador Janine Finck, the delegation met the Honorary Consul of Luxembourg in Stockholm, Anders Wall.
Swedish Climate Protection Act
Minister Dieschbourg also had a long exchange of views with her counterpart, the Swedish Environment Minister, Karolina Skog, and Secretary of State, Eva Svedling. Minister Dieschbourg focused on Swedish initiatives in the fields of climate policy, transport, pesticide reductions and micropollutant control, which pose a risk to the fauna and flora of the sea.
The Minister was particularly aware of the new Swedish Climate Protection Act, which has just been adopted by the Swedish Government and informed the Swedish side about Luxembourg's climate commitments, including the functioning of the climate pact and the many climate finance initiatives.
Common commitment for the decarbonation of transport in Europe
The two sides agreed to intensify their cooperation at European and international level in order to revitalise the implementation of the Paris Agreement and to work together on more ambitious proposals from the European Commission on sustainable and sustainable transport policy. reduction of pesticides and micropollutants.