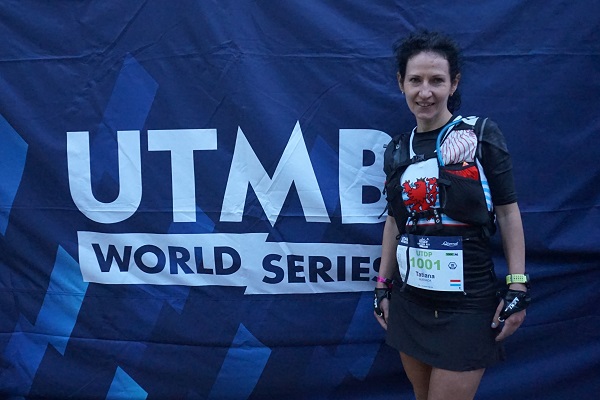 Tatiana Quesada after finishing the "Ultra-Trail des Païens"; Credit: Jazmin Campbell/Chronicle.lu
Tatiana Quesada, representing Luxembourg, was the third woman to cross the finish line of the "Ultra-Trail des Païens" race during the very first Trail Alsace Grand Est by UTMB at the weekend.
This was one of four races held from Friday 19 to Sunday 21 May 2023, during which seventeen runners from Luxembourg participated.
The 50 km "Trail des Celtes" took place on Friday, with France's Gregory Basilico finishing in first place (03:48:07). Antoine Charvolin (03:58:19) and Christopher Dupre (04:02:03), both of whom also represented France, finished in second and third place, respectively. Emily Schmitz from the United States placed first among women participants (11th overall; 04:30:48).
Swiss athlete Fabrice Fauser was the champion of the 175 km "Ultra-Trail des Chevaliers", finishing the event's longest race in just under eighteen hours (17:53:44). He was followed more than an hour later by Germany's Markus Meinke (19:04:59) in second place and shortly after by France's Jeremy Goguet (19:15:59) in third place. This particular race kicked off on Friday evening in Colmar and ended on Saturday afternoon in Obernai. The first woman to cross the finish line was Spain's Maite Maiora (sixth place overall; 20:20:35).
The "Ultra-Trail des Païens" on Saturday was the second longest race, with France's Guillaume Berthier the first to reach the finish line in Obernai that same evening (10:29:04). South African athlete Matthew Healy finished a close second (10:29:57) and France's Thibaut Lecuru finished in third place (10:38:31). Fellow French athlete Tiffany Prinz was the first of the women to cross the finish line (34th overall; 13:16:16), followed by Hungary's Ildikó Wermescher in second place (44th overall; 13:35:14) and Luxembourg's Tatiana Quesada in third place (66th overall; 14:03:30).
The first edition of the Trail Alsace Grand Est by UTMB concluded with the 34 km "Trail des Pèlerins", which saw France's Léo Tuaz finish in first place (02:33:26). Fellow Frenchmen Maxim Chane (02:37:17) and Dorian Louvet (02:37:24) finished the race in second and third place, respectively. Elisa Ravet, also from France, ranked first among the female runners, finishing the race in 32nd place overall (03:10:13).
As part of a press trip, Chronicle.lu had the opportunity to cover this first edition and to speak with Tatiana Quesada after her impressive finish. She described the trail (her first 100 km this year) as a "beautiful" way to experience Alsace, with its many castles and hills, on foot. With such long-distance races, however, anything can happen. In the lead-up to this race, she had spent a couple of weeks running in Esch-sur-Sûre back in Luxembourg and also participated in the 60 km Legends Ardennes Trail in Belgium just three weeks earlier.
About 4,600 runners representing 53 nationalities took part in the first Trail Alsace Grand Est by UTMB. The routes took participants around various castles, vineyards and other iconic sites in the region. The weather was dry and mild for the most part, with temperatures getting quite high for the Sunday race.