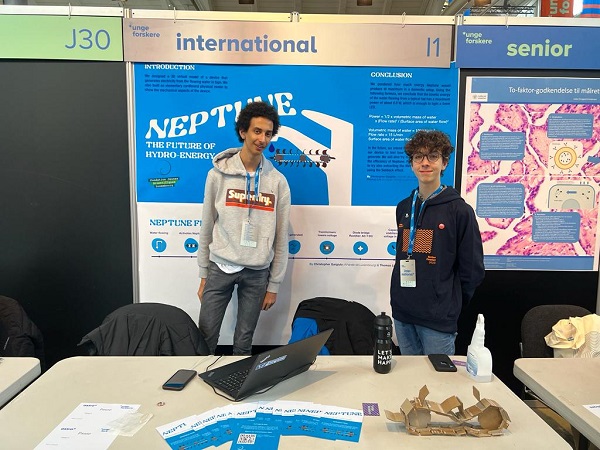 Credit: FJSL
The Fondation Jeunes Scientifiques Luxembourg (FJSL) has announced that two young scientists from Luxembourg recently won second prize at a science fair in Denmark.
From 21 to 25 April 2023, the Danish science fair and competition for young researchers, "Unge Forskere", organised by ASTRA*, took place in Copenhagen.
For the first time, a part of this science fair was open to delegations from other countries. Two national "Jonk Fuerscher" contest laureates represented the FJSL and ultimately won the
second prize in this international category.
With their physics/engineering project "Neptune: the future of hydro-energy", fifteen-year-olds Christopher Gargiulo and Thomas Litt came up with the design of a portable device that could extract the kinetic energy of water flowing from a tap, to produce electricity to light a LED bulb or charge a small electronic device.
The two young scientists from the Grand Duchy presented their project in front of a jury of professional researchers and scientists from different fields at one of the 105 competition stands.
The jury reportedly described this as "a splendid idea" and was particularly impressed by the Luxembourg duo's "good understanding of the issues they have to overcome to achieve their objectives."
Moreover, representatives of ASTRA* and the FJSL signed a new symmetrical exchange agreement to officially include participation in the Expo-Sciences Luxembourg (organised annually by the FJSL) among the special prizes awarded to a winner of the Copenhagen Young Scientists Contest. At this year's event, the prize went to a young Danish natural science prodigy, Dmytro Zatvornytskyi, whose research focused on "the effectiveness of unusual antiseptics".