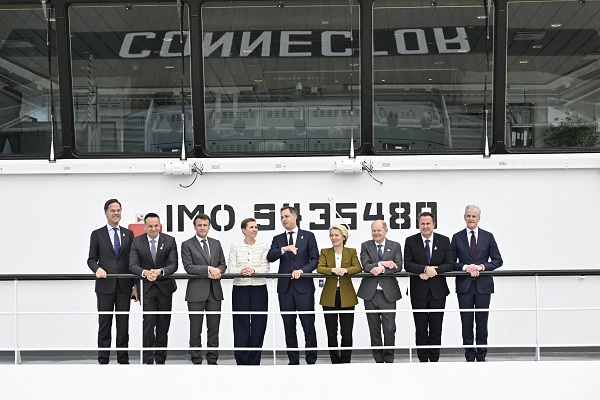 Prime ministers of the Netherlands, Ireland, Denmark, Belgium, Luxembourg (second from right) and Norway, pictured with the French President, the European Commission President and the German Chancellor; Credit: northseasummit2023
On Monday 24 April 2023, Luxembourg's Prime Minister Xavier Bettel and the Minister for Energy, Claude Turmes, participated in the North Sea Summit in Ostend, Belgium
This summit focused on the exploitation of offshore renewable energy in the North Sea, particularly through investment in wind energy and the promotion of interconnections for green hydrogen and electricity.
A first North Sea Summit in 2022 brought together Heads of State and Government from Denmark, Germany, Belgium, the Netherlands and the European Commission in Esbjerg, Denmark. Belgium then organised this second North Sea Summit, in the presence of Denmark, France, Germany, Ireland, the Netherlands, Norway, the United Kingdom, Luxembourg and the European Commission.
According to Luxembourg's Ministry of State and the Ministry of Energy and Spatial Planning, this recent summit was an opportunity for Luxembourg to "cement [its] participation in the development of offshore renewable energies". It was also reportedly an opportunity to strengthen cooperation with other countries present at the summit and thus "to support the security of energy supply in Luxembourg and to confirm that offshore energy production is also a solution for landlocked countries".
The ministries recalled in a press release that Luxembourg is already cooperating closely with Denmark through a project aimed at the construction of "energy islands", artificial islands off the coast of Denmark connected to wind farms and supplying green energy to the continent.
The North Sea Summit in Ostend is also, according to the ministries, the result of the international context in which energy supply has become of central geopolitical importance, following Russia's invasion of Ukraine. They reiterated the significant potential of wind energy and renewable hydrogen in increasing energy independence for the European Union.
During this summit, round tables brought together leaders and representatives of the private sector allowing in-depth discussions on this subject. Together with the President of the European Commission, Ursula von der Leyen, Prime Minister Bettel chaired one of the round tables, on the subject of competitiveness and supply chains. He reiterated that Luxembourg strongly supports all common European initiatives encouraging close cooperation between partners in order to develop new sustainable energy resources. He added that these partnerships will make it possible to achieve the recently revised common European objectives.
For his part, Minister Turmes chaired, together with the Netherlands' Minister for Climate and Energy Policy, Rob Jetten, a round table on network infrastructure investment. Luxembourg's Energy Minister emphasised that the "interconnection of large-scale renewable energy projects with energy consumers is essential to support decarbonisation in Europe, including in Luxembourg". He added: "Offshore wind will play a major role in energy supply security. Thanks to an efficient network infrastructure, all European countries will be able to benefit from it, even landlocked countries like Luxembourg."