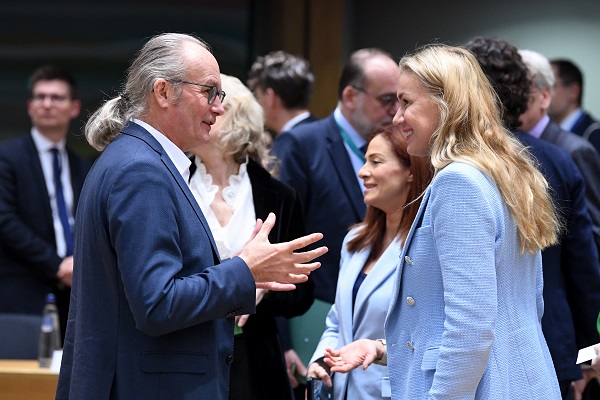 (L-R) Claude Turmes, Luxembourg's Minister of Energy; Kadri Simson, European Commissioner for Energy; Credit: Council of the EU
On Tuesday 28 March 2023, Luxembourg's Minister of Energy, Claude Turmes, participated in the meeting of the Council of European Union (EU) Energy Ministers in Brussels, Belgium.
The Council approved the proposal to extend the member states' voluntary 15% gas demand reduction target for one year, until March 2024. Minister Turmes welcomed the renewal of this measure: "The extension of the reduction in gas demand is good news: in addition to strengthening Europe's energy independence and preparing us for next winter, it allows us to fight against climate change by limiting our fossil energy needs."
Between August 2022 and February 2023, Luxembourg managed to reduce its natural gas consumption by 27.2% compared to the 2017 to 2022 reference period.
The EU Energy Ministers also reached an agreement on the revision of the "gas package", a set of texts which establishes common rules for the development of the future European hydrogen market. Following this agreement, interinstitutional negotiations with the European Parliament may begin in the coming weeks.
Minister Turmes assured Luxembourg's support for these measures and called for the development, as quickly as possible, of a cross-border infrastructure to enable industry to substitute green hydrogen for natural gas and to ensure network access to Luxembourg's industry: "Renewable hydrogen is an essential complement to electrification, particularly attractive for sectors that are difficult to decarbonise, such as aviation or heavy industry."
During an exchange of views on a proposal aimed at revising the organisation of the electricity market in the EU proposed by the European Commission, the Luxembourg Energy Minister called for the strengthening of certain aspects, in particular to encourage the use of long-term cross-border power purchase agreements (PPAs). He also warned against any temptation to apply the new measures to existing assets, which would constitute a retroactive regulatory change detrimental to investor confidence. The Swedish Presidency of the Council of the EU will try to obtain an agreement on this text at the next meeting of the energy ministers, which will take place in Luxembourg on 19 June 2023.
Ahead of the Council meeting, the so-called "pro-renewable" member states, namely Luxembourg, Austria, Belgium, the Netherlands, Germany, Spain, Portugal, Denmark, Ireland, Latvia and Estonia met to discuss European renewable energy targets. Minister Turmes clarified: "After months of talking a lot about nuclear power, it is time to focus our attention on the real solution, which is renewable energies. Renewables can ramp up rapidly, while no nuclear reactor will see the light of day before 2035, which will be too late to solve the problem of climate change."