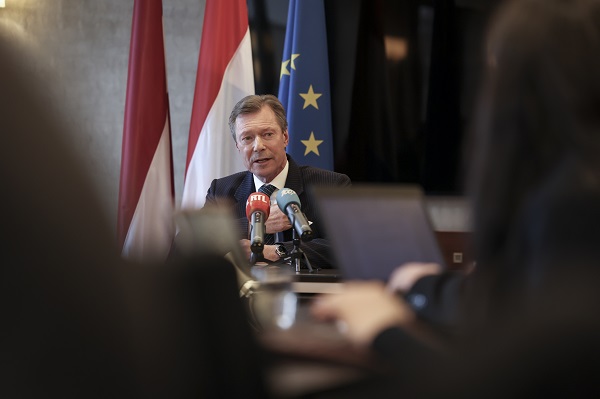 HRH Grand Duke Henri speaks with members of the Luxembourg press during the state visit to Riga, Latvia; Credit: © Maison du Grand-Duc / Sophie Margue
During a press conference in Riga on Tuesday 14 March 2023, as part of the state visit to Latvia, His Royal Highness the Grand Duke of Luxembourg responded to a question addressing recent allegations concerning treatment of staff at the Maison du Grand-Duc.
When asked about allegations in a recent Lëtzebuerger Land article of a verbal altercation between Her Royal Highness Grand Duchess Maria Teresa and her staff, Grand Duke Henri assured that there was "no big problem" and that he was in "regular" contact with Prime Minister Xavier Bettel.
He added that relations between the Maison du Grand-Duc, an institution which was established following the 2020 Waringo report to ensure greater transparency, and the Luxembourg Government remained "excellent".
The Grand Duke also said that the content of the article in question was "not 100% correct", adding that there was "a lot of speculation", without confirming the specific parts to which he was referring.
The article in question published details of an alleged dispute between Grand Duchess Maria Teresa and members of her staff last autumn. It also reported that Prime Minister Bettel had met with the Grand Ducal couple to discuss the issue and that he would closely follow the situation; a written report was expected to be published at a later date.
Grand Duchess Maria Teresa did not participate in the state visit to Latvia, which took place on Monday 13 and Tuesday 14 March 2023, although she had previously joined Grand Duke Henri on their state visit to Portugal in May 2022. The Grand Duchess is patron of various Luxembourgish charities and socio-cultural organisations including the Luxembourg Red Cross and Fondation Cancer. In 2019, she initiated the Stand Speak Rise Up! (SSRU) non-profit organisation to denounce rape as a weapon of war.