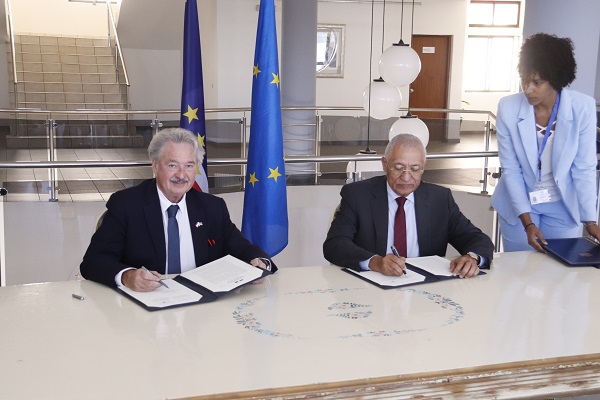 L-R: Jean Asselborn, Luxembourg's Minister of Foreign & European Affairs; Rui Figueiredo Soares, Cape Verde's Minister for Foreign Affairs, Cooperation & Regional Integration; Credit: MAEE
On Tuesday 31 January 2023, Luxembourg's Minister of Foreign and European Affairs, Jean Asselborn, chaired the twelfth ministerial political dialogue meeting of the "Special Partnership" between Cape Verde and the European Union (EU), during a visit to Praia.

Minister Asselborn was representing the High Representative of the EU for Foreign Affairs and Security Policy, Josep Borrell, on this occasion.
Tuesday's meeting allowed co-chairs Minister Asselborn and his Cape Verdean counterpart, Rui Figueiredo Soares, to have an in-depth exchange of views on the implementation and results of the EU-Cape Verde Special Partnership, established fifteen years ago, as well as current international and regional issues and political and economic developments in the EU and Cape Verde.
Participants discussed and acknowledged the achievements of this Special Partnership to date, particularly in the areas of sustainable development, infrastructure, mobility and trade, but also in dealing with crises such as the COVID-19 pandemic.
In this context, Minister Asselborn mentioned in particular the partnership for mobility and visa facilitation, the GSP+ Generalised System of Preferences, giving Cape Verdean products access to the EU internal market, particularly in the fishing industry, as well as investments in priority areas such as connectivity through the Ellalink submarine cable and the development of the port of Maio as part of the "Global Gateway".
Faced with the current food and energy crises, Cape Verde and the EU have expressed their confidence in this Special Partnership to overcome difficulties. The future priorities of the partnership remain sustainable development, good governance, the environmental and energy transition, protection of biodiversity, promotion of the blue economy, digitalisation and the modernisation of infrastructure.
The meeting also reaffirmed the commitment of the EU and Cape Verde to the defence of multilateralism, international law and democracy.
Minister Asselborn also assured that Luxembourg and the EU would support Cape Verde in facing current crises and challenges, given that Cape Verde, as a Small Island Developing State (SIDS), is exposed to particular social, economic and environmental vulnerabilities and risks.
The ministerial meeting concluded with the signing of a joint press release and a lunch at the Hotel and Tourism School of Cape Verde, which was created within the framework of a Luxembourg Cooperation project and offers training in all catering and hotel professions to more than 200 students.