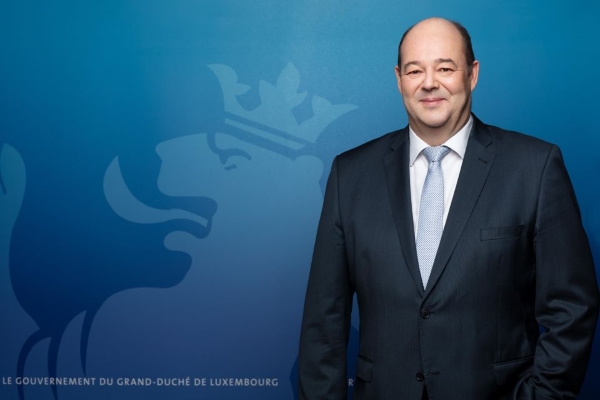 Claude Haagen, Luxembourg's Minister of Agriculture, Viticulture and Rural Development; Credit: SIP / Yves Kortum
On Monday 12 December 2022, Luxembourg's Minister of Agriculture, Viticulture and Rural Development, Claude Haagen, attended the European Union (EU) "Agriculture and Fisheries" Council meeting in Brussels.
The EU ministers discussed the revision of European animal welfare legislation by the end of 2023, to which Luxembourg's Agriculture Minister attaches great importance. Minister Haagen again presented his priorities at European level and proposed to:
limit the duration of the transport of animals intended for slaughter to a maximum of eight hours;
prohibit the export of animals from the EU to slaughterhouses located in third countries, as already in force in the Grand Duchy;
introduce European welfare standards for the keeping of dairy cows;
define positive lists for keeping authorised pets, as regulated by Luxembourg.
Minister Haagen also made a case for voluntary labelling relating to animal welfare in Europe. As for the conclusion of trade agreements between the EU and third countries, he called upon third countries to respect the same animal welfare standards as in the EU, in order to protect European farmers against any unfair competition.
The agriculture ministers then analysed the situation of agricultural markets in light of the war in Ukraine. Minister Haagen welcomed the extension of the agreement on grain exports from Ukraine through the Black Sea and the maintenance of the solidarity corridors, but expressed concern about the high cost of fertilisers and energy for the agricultural sector, and higher food prices for the most vulnerable consumers. With winter approaching and with regard to the next harvests, a good state of agricultural crops is all the more important, he emphasised. Minister Haagen confirmed that in the Grand Duchy, the sowing of winter cereals took place in good weather conditions.
The council also discussed the implementation of the new Common Agricultural Policy (CAP) from January 2023. Minister Haagen underlined that with a wide range of measures and aid, the Grand Duchy is proving to be well equipped to face the future challenges of the agricultural sector. However, the year 2023 should be considered as a transition phase and all stakeholders will have to show pragmatism, so that the transition to the new legal framework takes place without too much difficulty.