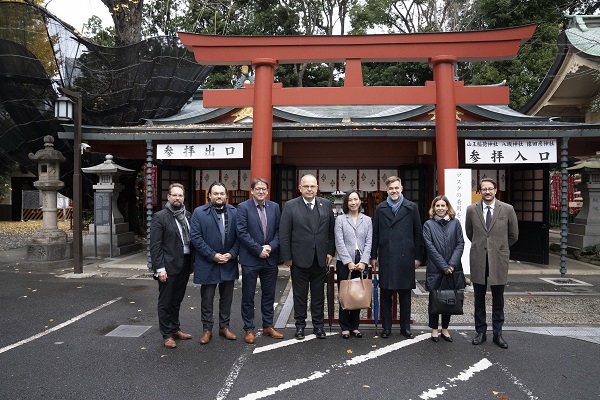 L-R: Marc Serres, LSA; Loic Bertoli, Economy Ministry; Mario Grotz, Economy Ministry; Pierre Ferring, Ambassador to Japan; Yuriko Matsuno, LTIO Tokyo; Franz Fayot, Economy Minister; Michèle Schmit, Economy Ministry; David Goebbels, Embassy in Japan; Credit: LTIO Tokyo
Thursday 1 December 2022 marked the second day of the working visit of Luxembourg's Minister of the Economy, Franz Fayot, to Japan.
Day 2, in Tokyo, was the occasion to celebrate the tenth anniversary of the presence of the Paul Wurth IHI company in Japan. In November 2012, Luxembourg-based company Paul Wurth joined forces with IHI to form Paul Wurth IHI Co, Ltd, a 50:50 joint venture in advanced iron and cokemaking technology. Today, the company employs around 100 people.
Minister Fayot and representatives of the Luxembourg Space Agency (LSA) subsequently had a meeting at the Japan Aerospace Exploration Agency (JAXA) with its president, Dr Hiroshi Yamakawa. The two space agencies identified opportunities for cooperation in the field of space resources, in particular within the framework of the activities of the Luxembourg-based European Space Resources Innovation Centre (ESRIC).
Finally, Luxembourg's Minister of Economy met Shinichi Nakatani, Japan's State Minister of Economy, Trade and Industry. Together, they discussed potential areas to strengthen collaboration between Japan and Luxembourg, particularly in space, research and finance. Luxembourg's participation in the World Expo in Osaka in 2025 was also mentioned.