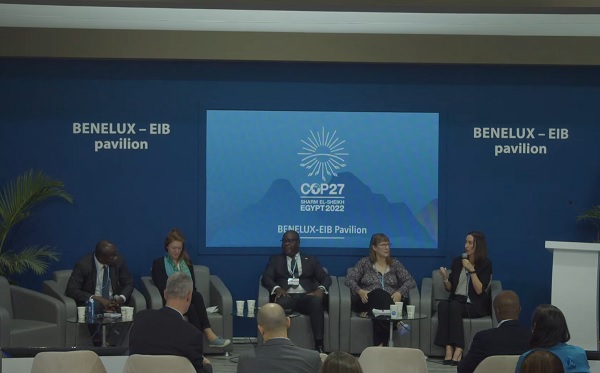 Credit: Screenshot by Chronicle.lu
The Luxembourg Stock Exchange (LuxSE) organised a side event together with the Global Green Growth Institute (GGGI) at the EIB & BENELUX pavilion at COP27 in Sharm El Sheikh, Egypt on Wednesday morning as part of "Finance Day"; the event was also livestreamed.
This side event, moderated by Laetitia Hamon, Head of Sustainable Finance at LuxSE, explored how Luxembourg's financial ecosystem can contribute to accelerating sustainable finance in Africa. Expert speakers from Africa and Luxembourg discussed what capital market players can do to help close the financing gap and foster sustainable development in the region.
Attendees learned more about the role that cross-border collaboration and cooperation and capacity building play in bringing sustainable finance markets in Europe and Africa closer together and mobilising the necessary investment for the United Nations (UN) Sustainable Development Goals (SDGs).
In his opening remarks, Frank Rijsberman, Director-General of GGGI, presented the GGGI, a young intergovernmental organisation supporting 45 country members to accelerate their green transition. He noted that GGGI and Luxembourg have had a strong collaboration since 2016, supporting projects related to climate resilience, green water systems and the circular economy as well as green finance. The question today, according to Mr Rijsberman, is: "How can we work together to increase the flow of good green projects that attract good green finance through the capital markets, through green bonds?"
This was followed by a video message by Julie Becker, CEO of LuxSE, who presented the Luxembourg Green Exchange (LGX), which, since its creation in 2016, has put sustainable finance "at the heart of [LuxSE's] mission and strategy as an exchange". LGX currently encompasses more than 1,500 sustainable bonds from 255 issuers in 50 countries and these bonds have raised over €800 billion for sustainable development worldwide. A development which Ms Becker said illustrated the exponential growth of sustainable finance in recent years. She added, however, that "sustainable finance is not growing at the same pace in all parts of the world". She stressed the importance of focusing on a just transition in this context. "A just transition is about making sure that no one is left behind as we transform the world economy and our societies into greener and more inclusive models", she stated, adding that it was also "about allowing emerging and developing markets to embark on the green transition without sacrificing economic growth and social prosperity". She emphasised the importance of ensuring that the funds raised for climate finance actually "reach the people and the countries that need them the most". Ms Becker added that "massive amounts" of capital would be required for this and thus it was necessary to mobilise private investment. "And this can only be successful when governments and companies work closely together towards the same goal, when stock exchanges help to divert capital flows towards sustainable developments and when developed countries and emerging markets join forces and build up a joint response to the world's most pressing challenge". Julie Becker also recalled that LuxSE has been focusing its efforts on Africa since COP26 in Glasgow, starting to work with stock exchanges in Rwanda, Cape Verde and Nigeria, among others.
Panelists Al-Hamndou Dorsouma, Director and Manager for Climate and Green Growth Division at the African Development Bank, Edoh K Amenounve, Director-General of Bourse Régionale des Valeurs Mobilières (BRVM) and President of the African Securities Exchanges Association (ASEA), Nancy Saich, Chief Climate Change Expert at the European Investment Bank (EIB) and Rapporteur of the EU Platform on Sustainable Finance, and Virginie Gilbert, Development Cooperation Officer at Luxembourg's Ministry of Foreign and European Affairs, then explored not only the risks but the opportunities associated with investing in Africa, as well as the role of climate adaptation, a just transition, gender finance and international collaboration and cooperation in this area.
Chiara Caprioli, Sustainable Finance Expert and Senior Business Development Manager at LuxSE, later presented the activities and mission of LuxSE, particularly the ways in which it is cooperating with other stock exchanges and issuers in emerging markets. She emphasised the need for transparency, trust and aligning with the standards and noted that the stock exchange has a role to play in scaling up the market through international cooperation.
As the side event came to an end, Laetitia Hamon confirmed that LuxSE's collaboration with GGGI is set to continue beyond COP27. As such, LuxSE has signed a letter of intent with GGGI to demonstrate its commitment to "work concretely on common actions in Africa". This will focus on specific activities such as capacity building (developing specific training programmes and materials for entities in the region; working on data in order to help all players to "understand where they stand") and collaboration in the field of advocacy.
The side event was also the occasion for Frank Rijsberman to announce a strengthened partnership between Luxembourg and GGGI. He first recalled that Luxembourg and GGGI signed a host country agreement this past summer to open a GGGI office (focused on sustainable finance) in the Grand Duchy before the end of this year. He then announced that the Luxembourg Government will soon fund a global programme on sustainable finance in which GGGI will partner with LuxSE. This will be a technical assistance programme to provide assistance to governments and stock exchanges as well as anyone else wishing to explore innovative sustainable finance opportunities. The programme foresees an investment of about €5 million in the next five years and is supported by Luxembourg's Ministry of the Environment, Climate and Sustainable Development, the Ministry of Finance and the Ministry of Foreign and European Affairs.
Laetitia Hamon concluded by reiterating the message that "in order to finance the most pressing challenges that we have to face today, we cannot leave anyone behind", adding that "we need to take action and we need to take action right now".