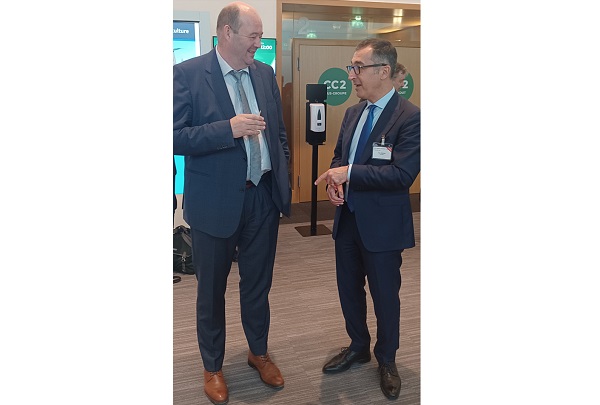 L-R: Claude Haagen, Luxembourg's Minister of Agriculture, Viticulture and Rural Development; Cem Özdemir, Germany's Federal Minister of Food and Agriculture; Credit: MA
Luxembourg's Minister of Agriculture, Viticulture and Rural Development, Claude Haagen, participated in the OECD Meeting of Ministers of Agriculture 2022 in Paris, France on Thursday 3 and Friday 4 November 2022.
During this meeting, which brought together more than 45 agriculture ministers, the discussions focused on the theme "Building Sustainable Agriculture and Food Systems in a Changing Environment: Shared Challenges, Transformative Solutions".
The ministerial conference, however, focused primarily on the growing risk of food insecurity in the face of the war in Ukraine, although ministers expressed reassurance that Russia had rejoined the agreement on grain exports via the Black Sea.
The ministers then discussed innovative and forward-looking policies to address global challenges. They stressed the imporance of ensuring food security for a growing world population, providing livelihoods along the food chain and enhancing agriculture's contribution to climate change mitigation.
Minister Haagen showed his appreciation for this open exchange of views aimed at uniting efforts to meet these challenges and highlighted the need to adapt production methods in order to reduce the impact of agriculture on the environment and the climate change, while remaining productive. "An ambitious level of production standards will have to become the rule not only at European level, but also at the global level", he stated.
Minister Haagen thus pleaded for fair reciprocity in free trade agreements with regard to production standards, both at the environmental and social level.
On Friday, the agriculture ministers adopted a joint declaration which will set the framework for the OECD's action for the years to come in order to concentrate their efforts and adopt concrete measures to face the triple challenge facing agriculture and food systems, namely: ensuring food security and nutrition for a growing world population, addressing environmental challenges, including climate change, and providing livelihoods for all farmers and others working in food supply chains.