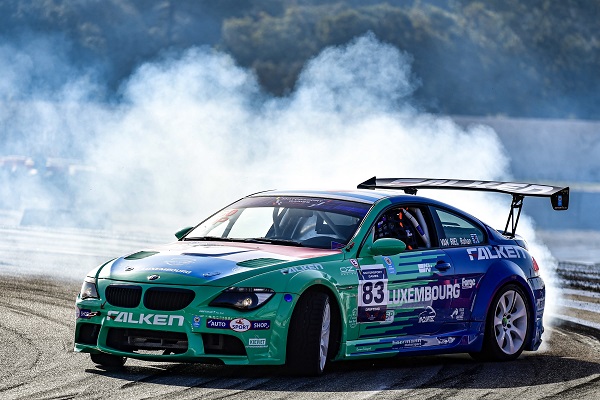 Credit: ACL
The FIA Motorsport Games took place on the Circuit Paul Ricard in France last week; Rohan van Riel wore Luxembourg's colours in the drifting category, while Daniel Lahyr represented ACL Sport in esports.
Team Italy were ultimately crowned winners of the 2022 FIA Motorsport Games after securing three gold medals. This second edition of the multidisciplinary event brought together 42,000 spectators at Circuit Paul Ricard over four action-packed days.
The Luxembourg delegation sprung into action on Thursday 27 October 2022, with Daniel Lahyr participating in esports - the most represented discipline of the event with 57 participants. "The start went well", explained Daniel. "I started in tenth position before moving up to eighth place halfway through the race". Opting for a different strategy from his competitors, he was relegated to thirteenth place before making a comeback.
Daniel qualified directly for the semi-finals by crossing the line in ninth position. "The next day, I did the fastest lap in free practice. But then, during the race to reach the final, I struggled to find my rhythm. In the second part, I was more confident and I set good times, but a penalty cut my hopes short", he recalled. "It was a first experience for me on such an important event. Admittedly, disappointed not to have been able to reach the final, but on the other hand, I am delighted with the journey made to the semi-finals. I have acquired a maximum of experience by measuring myself against big names in esports and I intend to use this to come back stronger".
In drifting, Rohan van Riel was quite concerned when he saw the cars of his opponents. Despite the more than 600 hp present under the hood of his BMW M6, his competitors approached 1100 hp. Preparing his car with the help of his mechanic Dany Batista and his spotter Remmo Niezen, the Luxembourg driver got his bearings as the event progressed. During the qualifications, Rohan made a "run" that was appreciated by the judges who awarded him 83 points. This result qualified him in tenth position (out of 32).
He then competed in tandem with a Czech driver. However, the judges found the performance of his opponent more convincing, thus marking a stop to his progress in the competition. "With such a lack of engine power, I quickly understood that it would be difficult to measure myself against the big names in drifting", admitted Rohan. "I was keen to put in a good performance in qualifying. It's done! The rest was just a bonus. Overall, I'm happy with my weekend. Getting here was not easy, we have worked a lot with my team to represent Luxembourg in the best possible way".
"I would like to thank Daniel, Rohan and their team for the performances achieved this weekend", concluded Florian Brouir, sports director of ACL Sport. "Participation in the FIA ​​Motorsport Games was a first for Luxembourg. We couldn't have hoped for a better result with Daniel who made it to the semi-finals with a very strong lineup. As for Rohan, he has shown that [with] a less efficient car, he has his place and the talent to evolve at this level. We will now use these results to prepare for the next edition and return with a larger delegation".