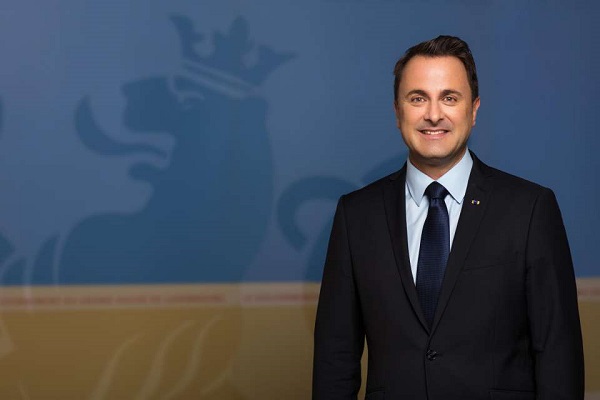 Luxembourg's Prime Minister, Minister of State, Xavier Bettel; Credit: SIP / Yves Kortum
From Wednesday 21 to Sunday 25 September 2022, Luxembourg's Prime Minister and Minister of State, Xavier Bettel, traveled to New York to represent Luxembourg during the high-level segment of the United Nations General Assembly.
On Wednesday 21 September, Prime Minister Bettel attended a reception hosted by United States (US) President Joe Biden. The Prime Minister took this opportunity to reiterate to President Biden Luxembourg's attachment to the deep friendship with the United States rooted in a history and common values.
Prime Minister Bettel's programme in New York was also marked by the inauguration of the oculus of the synagogue of the Ramath Orah Congregation in Luxembourg colours on 22 September. This ceremony was marked by the memory of Rabbi Robert Serebrenik who transferred more than 2,000 Jews out of the country during the Nazi occupation of Luxembourg and who, with 61 Jewish refugees from Luxembourg, founded the congregation of Ramath Orah in 1942 in Manhattan.
In his speech to the General Assembly on 23 September, Prime Minister Bettel highlighted the plethora of geopolitical challenges currently faced. In particular, he condemned the unprovoked and unjustified aggression of the Russian Federation against Ukraine and called on the Russian Federation to immediately end the war.
He encouraged the international community to maintain its solidarity with the Ukrainian people and underlined the need for the international community to act in unity and keep its faith in multilateral solutions.
Prime Minister Bettel also underlined that Luxembourg remains firmly committed to its policy of devoting 1% of its GNI to official development assistance (ODA). International climate finance, which has been increased to €220 million until 2025, comes on top of ODA. The fight against climate change, the central objective of which is required in the Paris agreement, is to limit global warming to 1.5 degrees Celsius, remains a priority for the Grand Duchy.
Finally, the Prime Minister recalled Luxembourg's resolute commitment to the defence of human rights, a commitment that the country strives to honour every day as a member of the United Nations Human Rights Council from 2022 to 2024.
On the sidelines of the general assembly, Prime Minister Bettel had bilateral meetings with the Prime Minister of Armenia, Nikol Pashinyan, and the Secretary General of the United Nations, António Guterres.
During these meetings, the Prime Minister once again called for concerted action based on the rules-based international order and reiterated Luxembourg's commitment to the United Nations Charter.
Finally, Prime Minister Bettel participated in the unveiling of the plaque in memory of James V Forrestal, the first owner of the house which is today the House of Luxembourg in New York. This ceremony took place in the presence of the Assistant Secretary of State for European Affairs of the United States, Karen Donfried, and members of the family of James Forrestal.