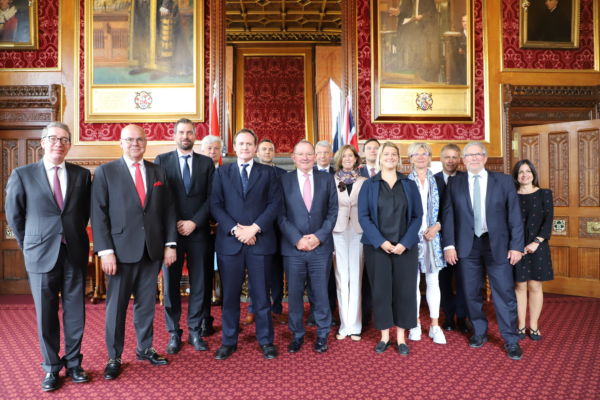 Credit: Chamber of Deputies
The Chamber of Deputies (Luxembourg's parliament) has announced the conclusion of its ten-member official visit to the United Kingdom (UK) from 10 to 12 May 2022 - the first such visit since 1949.
This visit aimed to restore political dialogue and revitalise relations between Luxembourg and the UK after Brexit.
"We want to restore a climate of trust and create a solid relationship between our two countries", highlighted the President of the Chamber of Deputies, Fernand Etgen, during the exchanges of views with the Speaker of the UK's House of Commons, Sir Lindsay Hoyle, British Foreign Secretary, Liz Truss, and the Chairman of the UK's Foreign Affairs Committee, Tom Tugendhat, as well as members of the House of Lords European Affairs Committee.
Mr Etgen was accompanied by Chamber Vice-Presidents Mars Di Bartolomeo, Marc Spautz and Djuna Bernard, members of the Bureau Yves Cruchten, Martine Hansen, Lydia Mutsch, Claude Wiseler and Fernand Kartheiser and Chamber Secretary General Laurent Scheeck.
The impact of Brexit and topical issues such as the concerted reactions to the war in Ukraine and the future of the Good Friday agreement on peace in Ireland dominated discussions between Luxembourg and British MPs.
More specifically, the Luxembourg MPs drew the attention of their British counterparts to one specific impact of the UK's withdrawal from the European Union (EU): the situation of European students (including a thousand Luxembourgers) in the UK who have to pay higher tuition fees. The MPs, having expressed their complaint during their exchange of views with Sir Lindsay Hoyle, undertook to transmit this complaint to the British government.
Luxembourg MPs also regretted the non-adherence of the British government to the European student exchange programme "Erasmus+". These topics were also at the heart of discussions during meetings with Luxembourgish students in London as well as with representatives of the London School of Economics and Political Science.