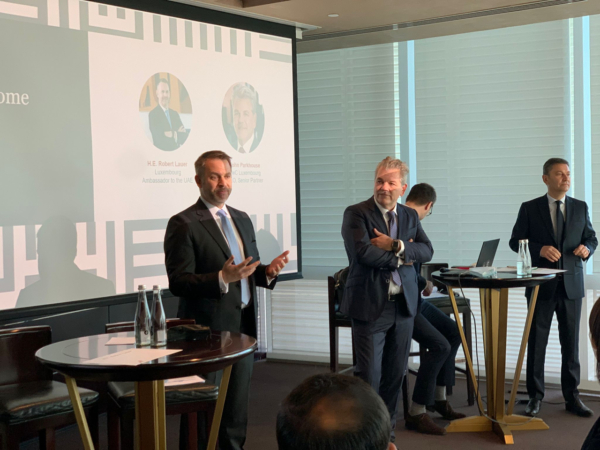 (L-R) H.E. Robert Lauer, Ambassador of Luxembourg to UAE; John Parkhouse, CEO, PwC Luxembourg.; Credit: PwC Luxembourg
Luxembourg Ambassador to the United Arab Emirates (UAE), H.E. Robert Lauer, addressed a panel of discussion in light of the "Healthtech mission" of the Luxembourg Chamber of Commerce in Dubai on Monday 24 January 2022, organised by PwC Luxembourg.
Ambassador Lauer emphasised the willingness of Luxembourg and the UAE to intensify their collaboration in the health sector.
The health crisis has highlighted the transformation of the healthcare sector, which has been accelerated by research including the rapid adoption of technology and the use of innovation, explained Sarah Butler, PwC Global Health Services Leader.
Another challenge of the healthcare sector for pharmaceutical companies are issues related to ESG (environmental, social and governance). The company B Medical Systems, which was present at the conference and played a major role in ensuring that the cold chain was respected in the distribution of vaccines during the pandemic, shared its expertise in decarbonised medical transportation that is both efficient and environmentally friendly.
Dr Carole Brückler, Head of Digital Health Technologies at the French Ministry of Economy, presented the concept of the Digital Health App (DiHA), offering a personalised and innovative follow-up, as well as a better quality of care for both the patient and the doctor. The healthcare of tomorrow aims to include new technologies and private innovation, through initiatives to reimburse such tools.
The conference ended with the intervention of MrJo Robrechts, President and CEO of Triamant Group, who conceptualised the notion of the modern "Blue Zone", residential and living environments where residents actively work to increase their quality of life and longevity, but also those of their neighbours. People of all ages - healthy or in need of care - get to know each other, help each other and inspire each other.
John Parkhouse and Guy Brandenbourger underlined the dynamics of the health sector in which the two regions have converging interests for the benefit of their respective populations. "This event was a unique opportunity to have this compelling discussion in Dubai. There is nothing more important than quality of health and healthcare and we look forward to furthering the conversation."
The meeting was attended by 30 Luxembourg and UAE participants.