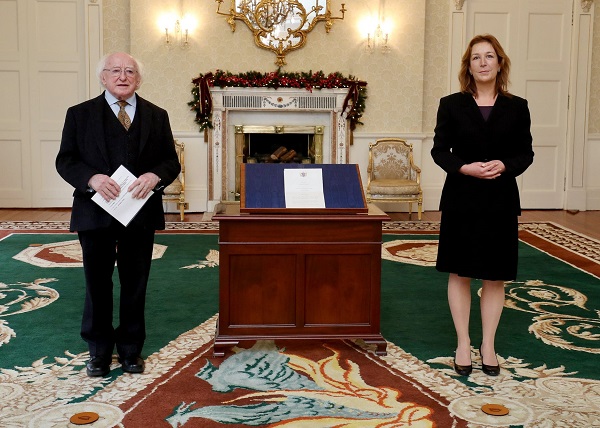 L-R: Michael D. Higgins, President of Ireland; Florence Ensch, Luxembourg's Ambassador to Ireland; Credit: Irish Embassy in Luxembourg
On Wednesday 24 November 2021, the new Luxembourg Ambassador to Ireland, Florence Ensch, presented her credentials to the President of Ireland, Michael D. Higgins, at Áras an Uachtaráin, the latter's official residence in Dublin.
Ambassador Florence Ensch was among several new ambassadors to present their Letters of Credence to the Irish President this week.
According to Ireland's Department of Foreign Affairs, the ambassadors were accompanied to and from Áras an Uachtaráin by an Escort of Honour consisting of a motorcycle detachment drawn from the 2 Brigade Cavalry Squadron, Cathal Brugha Barracks, Dublin, under the command of Lieutenant Dillon McAuliffe.
Last month, Luxembourg's Minister of Finance, Pierre Gramegna, announced during the 2022 state budget presentation, that the Grand Duchy planned to open an embassy in Dublin.
Ambassador Florence Ensch will now be the first resident Ambassador of the Grand Duchy of Luxembourg to Ireland. Until now, the Embassy of Luxembourg in London was also accredited to Ireland.
Commenting on her appointment, the Irish Embassy in Luxembourg sent its "allerbeschte Gléckwënsche" ("best wishes" in Luxembourgish) and said: "We look forward to working with Ambassador Ensch".