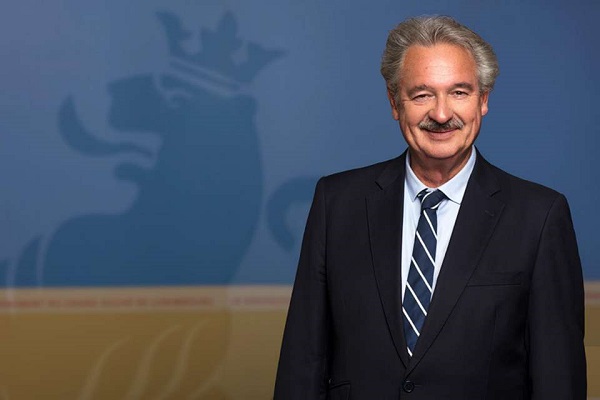 Jean Asselborn, Luxembourg's Minister of Foreign and European Affairs; Credit: SIP
On Tuesday 2 March 2021, Luxembourg's Minister of Foreign and European Affairs, Jean Asselborn, participated in the informal video conference of trade ministers of the European Union (EU).
The video conference enabled EU ministers in charge of international trade to have an in-depth discussion on the new European Commission communication concerning the review of the EU's trade policy. The latter was published on 17 February 2021, following a process of reflection and public consultation launched in June 2020 when the first weeks of the COVID-19 pandemic had clearly highlighted the weaknesses of the chains of international sourcing.
Minister Jean Asselborn thanked the Commission for the work it had accomplished, welcoming "the balance found between, on the one hand, a Europe open to international trade and foreign investment, and on the other hand, a Europe that wants to be more assertive and firm in protecting its interests in an increasingly difficult international environment". He highlighted the importance of "the planned articulation with other policies, in particular the Green Deal and digital transformation, which is essential if we want trade policy to be truly at the service of the European economy". He also recalled the need to remove unjustified barriers to trade in the digital economy.
Luxembourg's Foreign Minister insisted on the strengthening of provisions in terms of sustainable development. He particularly welcomed the Commission's desire to make compliance with the Paris Agreement an essential clause in future EU trade agreements.
Minister Jean Asselborn also welcomed the Commission's approval of the proposal made by Luxembourg, among others, for European legislation on due diligence. He stated: "I am already calling for the establishment of a high level of ambition," recalling that it was essential to include provisions to fight against forced labour.
Regarding the trade agreement with Mercosur, Minister Jean Asselborn recalled the need to put in place a binding framework to guarantee compliance with the Paris Agreement and the implementation of the commitments made in the fight against deforestation. "Without such a framework, a conclusion will not be possible", he recalled.
Finally, Minister Jean Asselborn stressed that in order to safeguard the rules-based international trading system, it was not only necessary to launch the reform of the World Trade Organization (WTO) but also to move forward on certain key issues such as fishing subsidies, which are linked to the Sustainable Development Goals (SDGs). He concluded that "in these times of pandemic, we must prove that the WTO is able to provide solutions, in particular as regards access to medical equipment and to vaccines against COVID-19".