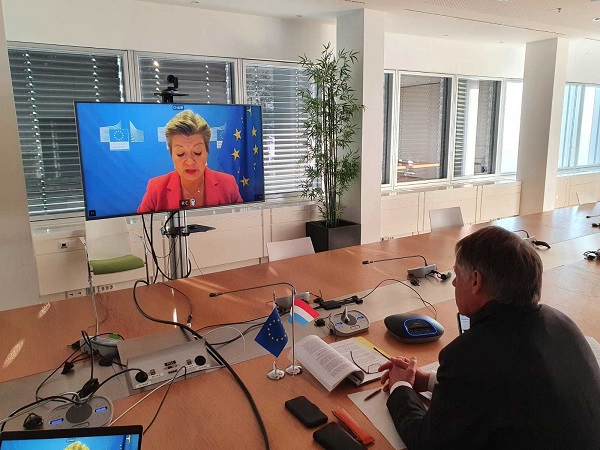 (L-R): Ylva Johansson, European Commissioner for Home Affairs; Minister Henri Kox participating in Schengen Forum; Credit: MSI
On Monday 30 November 2020, Luxembourg's Minister of Internal Security, Henri Kox, participated in the first Schengen Forum, organised by videoconference by the European Commission: this first such meeting brought together the ministers responsible for home affairs, members of the European Parliament and the European Commission.
The idea of ​​this discussion was to lay the groundwork for working towards the full functioning of the Schengen area, the European Commission having announced that it wanted to present a new Schengen strategy in autumn 2021. This strategy will mainly concern a reform of the borders code Schengen and the mechanism for evaluating the application of the Schengen acquis.
In particular, what were described as remarkable advances were discussed, but also existing challenges in order to make Schengen more efficient and more resilient in the face of threats such as those posed by the COVID-19 pandemic which led to the closure of many internal borders. Schengen. Whether in the field of police cooperation, management of external borders or migration or even health crises, this forum is the starting point for the European Commission's consultations with the Member States and the European Parliament with the aim of reform how Schengen works.
While expressing his readiness to support the European Commission's efforts towards a stronger and more resilient Schengen area, Minister Kox stressed that the Schengen that we must guarantee must be based on the principle that the reintroduction of controls at internal borders remain in any event a temporary measure of last resort. Thus, "a proper functioning of the Schengen area presupposes above all the full implementation and use of information systems in full compliance with our fundamental rights, an efficient framework for police cooperation as well as effective control at our external borders".
Minister Kox emphasised that our common space of free movement constitutes our strength and uniqueness. Despite the difficulties encountered this year, 2020 is also the 25th anniversary of the entry into force of the Schengen agreements. Therefore, we must not forget that the bold dream of our predecessors has become a reality that we must uphold at all costs.