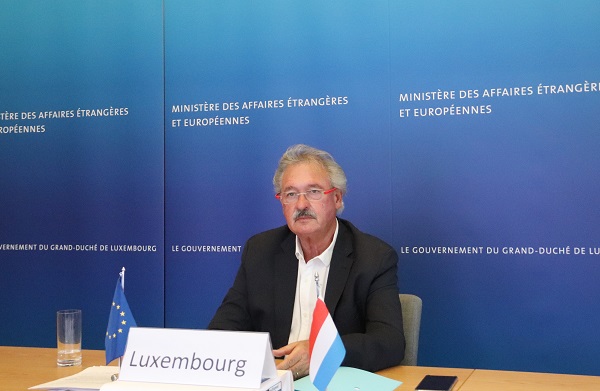 Jean Asselborn, Luxembourg's Minister of Foreign and European Affairs; Credit: MAEE
Luxembourg's Minister of Foreign and European Affairs, Jean Asselborn, took part yesterday in the international donors videoconference in solidarity with Venezuelan refugees and migrants.
The conference, organised by the Spanish government and the European Union (EU) in cooperation with the United Nations High Commissioner for Refugees (UNHCR), followed on from the Brussels conference in October 2019 and brought together more than 40 countries, UN agencies, international financial institutions and representatives of national and international civil society.
The objective of the conference was to raise awareness among the international community of the unprecedented migration crisis in Latin America, to mobilise resources to help the displaced populations and the main host communities, as well as to promote better coordinated engagement among the various key actors while the crisis is further aggravated by the COVID-19 pandemic.
In his speech, Jean Asselborn stated: "Luxembourg is aware of the urgency and the need to act quickly in order to respond to the migration crisis in Venezuela and in the host countries of the region".
Since the start of the crisis in 2018, Luxembourg has been acting in favour of Venezuelan refugees and migrants. With this in mind, this international donors conference was an opportunity for the head of Luxembourg diplomacy to announce new contributions totaling €900,000, made available by the Luxembourg Cooperation. Minister Asselborn explained: "We will continue to support Venezuelan refugees and migrants through our development cooperation and humanitarian action, also in the broader context of our support for the United Nations Global Compact on Refugees and for safe, orderly and regular migration".
The new Luxembourg contributions will be used to support various programmes on the ground, such as the operations of the UNHCR in Venezuela and in the region, the UNHCR Connectivity for Refugees service facilitating access to information for refugees and migrants and the flagship programme of UN-Women entitled "Women's Leadership, Empowerment, Access and Protection in Crisis Response" in Brazil. Luxembourg will also continue to support displaced Venezuelan populations through the deployment of emergency.lu, the Luxembourg government's mobile satellite telecommunications platform, which helps support the coordination efforts of humanitarian organisations on the ground and thus help save lives in humanitarian emergencies.
With these new contributions, which mainly aim to help Venezuelan refugees and migrants in the host countries of the region, the total amount of aid provided since the beginning of the crisis by Luxembourg to the displaced Venezuelan populations amounts to €2.5 million.
The conference raised commitments totaling €2.54 billion (donations, loans from international financial institutions and contributions in kind), including €595 million in the form of donations.