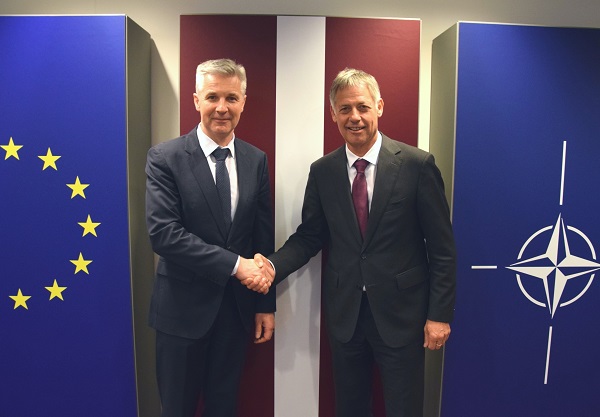 L-R: Artis Pabriks, Latvia's Minister of Defence; Henri Kox, Luxembourg's Minister Delegate of Defence; Credit: Ministry of Defence of the Republic of Latvia
Luxembourg's Minister Delegate of Defence Henri Kox and Latvian Defence Minister Artis Pabriks yesterday signed a memorandum of understanding (MoU) on the remediation of military sites.
After a first successful cooperation in 2017 as part of the construction of a barracks for the reception of Enhanced Forward Presence (EFP) troops in Latvia, the two NATO allies have decided to continue this collaboration.
It is in this context that the two ministers signed, on the sidelines of the meeting of NATO Defence Ministers, an MoU which defines Luxembourg and Latvian co-financing for the remediation of polluted soils on military sites in Latvia. Indeed, Luxembourg has expressed the desire to support Latvia in its efforts to clean up and protect the environment of its military enclosures. These projects thus demonstrate the shared understanding and the importance they attach to environmental protection in defence matters.
Luxembourg's contribution will cover the years 2020 to 2023 with an amount of €1.2 million.
The implementation of this MoU will contribute to reducing the impact of the defence sector on the environment, which is a priority not only for Luxembourg and Latvia but also within the European Union.