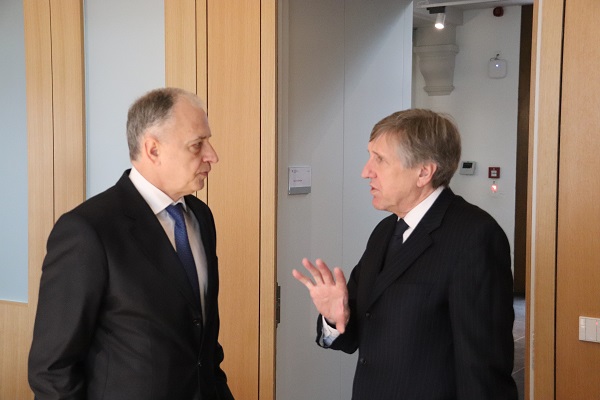 L-R: Mircea Geoană, NATO Deputy Secretary General; François Bausch, Deputy Prime Minister and Minister of Defence; Credit: MAEE
On Tuesday 11 February 2020, the Deputy Secretary General of the North Atlantic Treaty Organization (NATO), Mircea Geoană, undertook a working visit to Luxembourg.
On the occasion of his visit, Mircea Geoană was received by Luxembourg's Deputy Prime Minister and Minister of Defence, François Bausch, and Minister of Foreign and European Affairs, Jean Asselborn. Discussions offered an opportunity to address several subjects of common interest and to take stock of current international issues.
François Bausch and Mircea Geoană gave an overview of current NATO issues, in particular Luxembourg's contributions to NATO defence planning, with a particular focus on space and cyber defence. NATO's engagement in Iraq and disarmament and non-proliferation issues were also discussed, as well as NATO's relations with the European Union, the United Nations and certain Global South countries.
In this context, Mircea Geoană welcomed Luxembourg's various contributions within the framework of NATO and presented ideas for future cooperation. The Deputy Secretary General was optimistic that a formula for increased NATO engagement would be acceptable to the Iraqi government and people. However, François Bausch addressed the risk of a resurgence of Daesh in Iraq. Regarding Afghanistan, Deputy Prime Minister Bausch spoke in favour of maintaining a NATO presence in Afghanistan, saying that a withdrawal would have disastrous consequences. The Deputy Secretary General also congratulated Luxembourg for the initiatives taken within NATO to stimulate debate on climate security issues.
For his part, Minister Asselborn recalled that NATO remains the guarantor of collective security, noting that in the current context of a continuing deterioration of the security environment, the Allies are facing a number growing challenges and threats, particularly in the fields of terrorism and cyberspace, but also climate change, the impact on security and defence of which he maintained was undeniable. In this regard, Jean Asselborn stressed that Luxembourg attaches particular attention to the security implications of climate change. He also stressed the importance of cooperation between NATO and the EU and spoke in favour of strengthening the EU-NATO strategic partnership. For his part, the Deputy Secretary General stressed the important role that Luxembourg can play in this context.
Moreover, Minister Asselborn welcomed the launch of the process of reflection on the political dimension of NATO, decided by the NATO Heads of State and Government in London last December, and welcomed the strengthened NATO commitment in the area of ​​non-proliferation, disarmament and arms control. Finally, the meeting allowed Luxembourg's Foreign Affairs Minister and NATO's Deputy Secretary General to discuss the strategic context in which NATO operates and to review several regional issues.