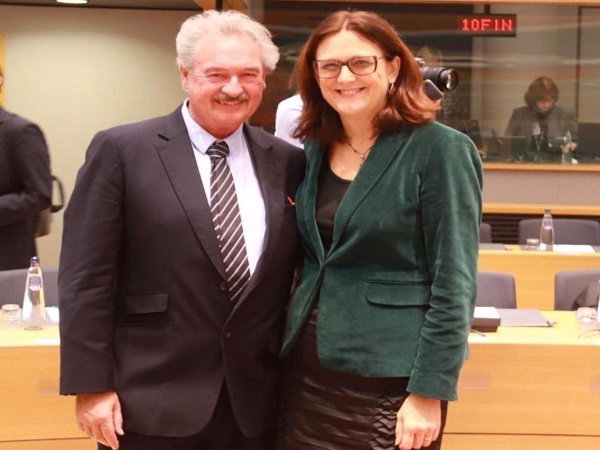 L-R: Jean Asselborn, Minister of Foreign and European Affairs; Cécilia Malmström, European Commissioner for Trade; Credit: MAEE
On Thursday, Luxembourg's Minister of Foreign and European Affairs, Jean Asselborn, participated in the European Union's Foreign Affairs Council on trade in Brussels.
The Council discussed the issue of reform of the World Trade Organization (WTO), particularly in the context of the dispute over its Appellate Body. Ministers also prepared the next WTO Ministerial Conference to be held in Nour-Sultan, Kazakhstan, in June 2020.
In addition, the ministers discussed recent developments in trade relations between the EU and the United States. In this context, Minister Asselborn pointed out that "we not only have common interests and objectives, but it is also imperative that we find a way to discuss issues such as the budget or Appellate Body".
Regarding US measures against European steel, the head of Luxembourg diplomacy recalled that "it is essential that the safeguard measures we adopted be calibrated to be fully effective." Regretting that the situation of the steel industry in Europe remains critical and increasingly pessimistic, particularly with regard to job losses, Minister Asselborn invited the European Commission to exercise continuous monitoring of the situation and to take corrective action, if necessary. In this context, he stated: "Safeguard measures have been and remain the greatest concrete expression of the unity and solidarity we all welcome today".
Ministers also held a policy debate on the implementation of Free Trade Agreements (FTAs). Welcoming the fact that the EU's efforts to put sustainable development first and foremost are paying off, Minister Asselborn pointed out that "new instruments will have to be put in place so that our small and medium-sized enterprises can benefit more from opportunities created by trade agreements ".
Moreover, the ministers exchanged views on the results of the 2019 Eurobarometer survey on international trade. In this regard, Jean Asselborn welcomed the fact that 60% of European citizens believe that they benefit from international trade and that at the same time the same percentage of Luxembourgers interviewed want EU environmental and health standards to be respected in commercial agreements. Minister Asselborn said: "[...] we must not rest on our laurels but continue to make trade policy more transparent and more values-oriented, in particular by pursuing dialogue with civil society organisations and representatives of public authorities".
The ministers then had a first exchange of views on the possibility of harmonisation at the European level of Member States' initiatives on responsible business conduct. Minister Asselborn spoke in favour of a European initiative to strengthen the social and environmental responsibility of transnational corporations and to ensure respect for human rights throughout their value chain. The European Commission has been invited to propose an EU Action Plan on responsible business conduct.
Over lunch, the ministers held an informal discussion on trade relations with China and the status of other bilateral trade negotiations.