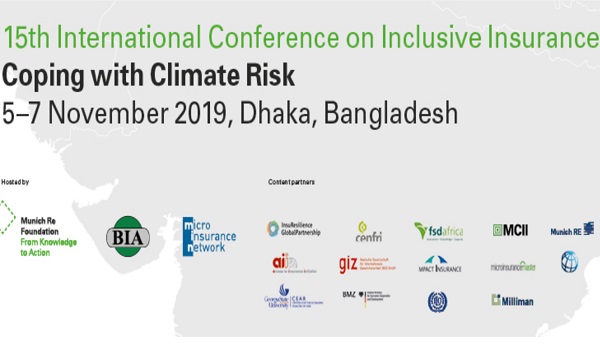 The 15th International Conference on Inclusive Insurance, co-organised by the Luxembourg-based Microinsurance Network, kicked off today, 5 November 2019, in Dhaka, Bangladesh.
Delegates at the conference, centred around the topic "Coping with Climate Risk", were warned that despite international humanitarian support being poured into bridging the protection gap through climate and disaster risk insurance, more must be done at the public and private sector levels to ensure sustainable solutions for millions of uninsured households and small businesses, who are dangerously exposed and prone to catastrophic losses.
Indeed, Bangladesh is one of the world's most vulnerable countries to the impact of climate change. Rising sea levels and shifting rainfall patterns cause crop losses and cyclones are becoming more devastating and more frequent: already, an average of 300,000 houses in Bangladesh are destroyed each year (according to information provided by the United Nations Development Programme).
At this year's International Conference on Inclusive Insurance, Sheikh Kabir Hossain, President of the Bangladesh Insurance Association (BIA), explained: "Microinsurance is the best mechanism to bring the economically vulnerable people of the informal economy of a country under the insurance safety and security net and hence make them more resilient and strong. Affordable, simple and innovative microinsurance products can provide succour and strengthen the poor to face the risks of climate change". He added: "To make the microinsurance mechanism effective, insurance companies should work jointly with all alternative distribution channels, namely microfinance institutions, banks, co-operatives, mobile phone operators and digital companies".
According to the climate and disaster risk insurance (CDRI) landscape study, undertaken by InsuResilience Global Partnership, agricultural insurance is the most common form of disaster risk solution in the region at the individual level and is predominantly driven by private insurers in these markets, through the support of international donors and funding.
"Disasters like the recent Hurricane Dorian show the importance of building resilience against weather-related disasters," said Dirk Reinhard, Vice Chairman of the Munich Re Foundation, co-organiser of the conference. "Insurance complemented by disaster prevention measures play an important role for sustainable economic development. However, appropriate insurance solutions against climate risks are still not available for the most part. This conference aims at being an eye-opener for governments, insurers, donors and regulators to increase their efforts and not only develop appropriate insurance solutions, but also educate customers on what insurance can and cannot do, strengthen capacity building and learning to apply technological solutions that are key to reducing costs, as well as strengthen distribution channels".
The analysis emphasises the need for a tailor-made and country-specific comprehensive disaster risk finance and insurance strategy and its integration into the larger disaster risk management framework. This would aim to reduce the human impacts of climate and disaster risk and prepares countries better for enabling more timely and reliable post-disaster response.
Dr. Astrid Zwick, Head of InsuResilience Secretariat added, "The need to bring together global expertise and converge action on adaptation for a resilient future is more urgent than ever before. The InsuResilience Global Partnership has set the ambitious Vision 2025: to shape a unique platform that pushes for a substantial scale-up in the use of pre-arranged risk finance and insurance mechanisms, embedded within comprehensive disaster risk management, and complementing broader resilience and adaptation efforts".
The conference also highlighted the important role played by insurance in mitigating some of these impacts and in avoiding a reversal in the gains made over the last 20 years. Nevertheless, the insurance sector in Bangladesh is small, even by emerging Asian standards.
Katharine Pulvermacher, Executive Director of Microinsurance Network, explained: "It is critical to improve access to responsible insurance by vulnerable households. We are proud to be launching our Landscape Study on Africa at the Conference, and pleased that in 2020, we will have the opportunity to focus on uptake of microinsurance in Bangladesh, along with other countries in Emerging Asia, Africa and Latin America and the Caribbean. The Landscape Studies provide a unique benchmark for tracking inclusive insurance trends and driving market development. We trust that this will, indeed, along with the 15th International Conference on Inclusive Insurance, assist as a catalyst for the inclusive insurance market in Bangladesh".
Around 400 inclusive insurance experts from over 40 countries are expected in Dhaka for the 15th International Conference on Inclusive Insurance, taking place from 5-7 November 2019.