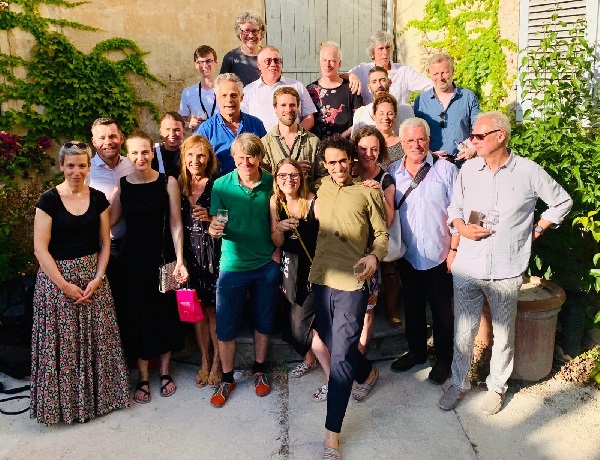 Sam Tanson, Minister of Culture, alongside the Luxembourg ensemble United instruments of Lucilin, Anouk Schiltz and Adam Maor, in Aix-en-Provence; Credit: MCULT
This summer, Luxembourg is being represented at three major cultural festivals in southern France, namely the Rencontres d'Arles, the Festival d'Aix-en-Provence and the Festival OFF d'Avignon.
For the third time in a row, under the coordination of the non-profit association Lët'z Arles, Luxembourg is exhibiting in the Chapelle de la Charité at the annual Recontres international summer photography festival in Arles. This year, the country is showcasing two solo exhibitions: "Aedicula" by Claudia Passeri and "Resonance" by Krystyna Dul.
In the context of the VR Arles Festival, which takes place simultaneously, the artists Karolina Markiewicz and Pascal Piron, creators of the "Fever" virtual reality experience were invited to present their creation during a round table dedicated to the possibilities of perception and action offered by immersive works.
Similarly, Luxembourg is participating at one of Europe's most important events dedicated to opera: the Festival d'Aix-en-Provence. On Saturday, the festival screened the world premiere of Luxembourg co-production "Mille endormis". Composed by Adam Maor and co-produced by the Théâtres de la Ville de Luxembourg, the opera is set to music by the Luxembourg ensemble United instruments of Lucilin, whose costumes were made by Anouk Schiltz. Following performances in Aix, the opera and ensemble will tour Luxembourg, passing through Portugal, Belgium and Finland.
Moreover, the Festival Off d'Avignon will showcase the Sophie Langevin (director) and Alice Birch's (writer) play "Révolte", produced by the Théâtre du Centaure (Luxembourg). It was in this context that Minister of Culture Sam Tanson, who travelled to the south of France to support Luxembourg at these festivals, approved on Sunday a new chapter in cross-border cooperation between the Grand Duchy and the Grand Est region of France. This cooperation includes the integration of a Luxembourg theatrical production each year into the festival programme at La Caserne. It foresees annual investment from the Grand Est.
This cultural cooperation in Avignon continues through the exhibition "Scenes of Luxembourg" by photographer Bohumil Kostohryz at Caserne, as well as a day of professional meetings between programmers and companies from Luxembourg and the Grand Est, taking place on 16 July 2019. Conferences and round tables will then highlight the challenges and prospects of artist mobility in a European and cross-border context.