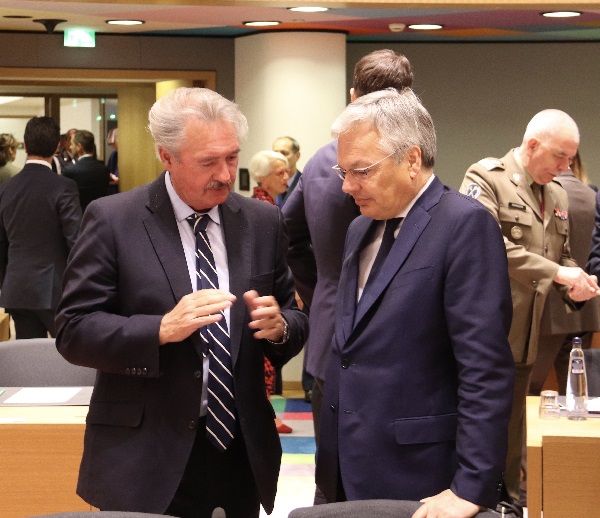 L-R: Jean Asselborn, Luxembourg Minister of Foreign and European Affairs; Didier Reynders, Minister of Foreign and European Affairs of Belgium; Credit: (c) MAEE
On Tuesday 14 May 2019, Luxembourg Minister of Foreign and European Affairs Jean Asselborn attended the meeting of the Foreign Affairs Council bringing together EU foreign and defence ministers and their counterparts from the G5 Sahel countries in Brussels.
In the face of the rapid and substantial deterioration of the security situation in the Sahel region, the meeting enabled the European ministers to have an in-depth exchange of views with their colleagues from Burkina Faso, Mali, Mauritania, Niger and Chad on the latest developments in the field.
More than a year after the Brussels high-level conference on the Sahel, held in February 2018, the overall goal of the ministerial meeting between the EU Member States and the G5 Sahel was to review ongoing efforts and the steps to be taken, in partnership between G5 Sahel and the European Union, to restore stability and lasting peace in the region. The activities of the G5 Sahel Joint Force and the support provided to it by the EU and its Member States were mentioned in this context.
In his address to the Council, Minister Asselborn emphasised that "only a comprehensive, integrated and coherent approach will address the many challenges that affect the region", adding that "these challenges, before being military, are of a political and social nature."
After recalling that the Sahel has been one of the priority regions of Luxembourg's foreign policy for over 30 years, Jean Asselbornh added that Luxembourg "is determined to act for stability and peace in the region, in the long term, following a 3D approach, combining the tools of diplomacy, development and defence".
In conclusion, Minister Asselborn emphasised that "it is essential to respect the principles and norms of international law". In this regard, he recalled that Luxembourg supports the International Commission of Inquiry into allegations of abuse and serious violations of international human rights and humanitarian law in Mali.