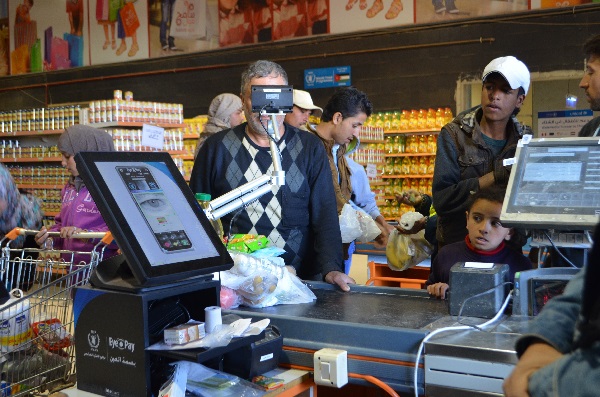 Luxembourg-backed Building Blocks project in Jordanian refugee camps; Credit: WFP Innovation Accelerator
In 2018, Luxembourg contributed $42 million to the World Food Programme's (WPF) range of innovative humanitarian projects.
Since 2011, Luxembourg has been working with the WPF on innovative solutions, especially in the context of the Emergency Telecommunications Cluster (ETC) and its associated services (ETS) and through the mobile platform "emergency.lu".
In early April 2019, as part of this collaboration, Luxembourg Minister for Development Cooperation and Humanitarian Action, Paulette Lenert, visited the WTP Innovation Accelerator in Munich. The Innovation Accelerator is in charge of identifying and developing new innovative responses to humanitarian and development challenges in the context of the UN Zero Hunger (#disrupthunger) goal of the United Nations Sustainable Development Goals (SDGs), particularly by creating synergies with the private sector. The Innovation Accelerator provides innovators and start-ups with financial support, as well as access to its global network of experts.
For its part, Luxembourg has recognised the need to harness the potential of innovation as a key enabler of an improved humanitarian response in an increasingly complex world and has entered into a partnership with the Innovation Accelerator in 2018. Indeed, part of the Grand Duchy's financial contribution has been invested in the Building Blocks project in two camps for Syrian refugees in Jordan. This project uses blockchain technology to remove taxes on financial transactions between refugees and traders. As a result, $42 million was transferred in two million transactions throughout 2018, while saving 98% of transaction costs. In all, 106,000 people benefitted from these transactions and Luxembourg is continuing to identify other innovative projects.
During her interview with Bernhard Kowatsch, director of the Innovation Accelerator, Paulette Lenert reaffirmed the long-standing trust between WFP and Luxembourg and stressed the importance of innovative technologies in the field of humanitarian aid: "Paradigm shifts are needed to face the challenges of tomorrow and Luxembourg will have to find its role as a digital nation."
The next "Innovation Bootcamp" for innovators and start-ups will take place from 13 to 17 May 2019 in Munich.