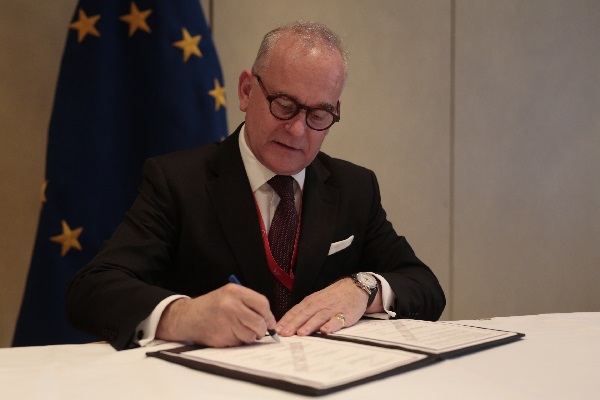 Ambassador Patrick Engelberg; Credit: European Commission
Luxembourg, represented by Ambassador Patrick Engelberg, yesterday participated in the third edition of Digital Day in Brussels.
This digital day, organised by the European Commission, traditionally provides the framework for the signing of important statements for the development of the digital society. The 2019 edition was dedicated to the topics of gender equality in the digital world, the digitalisation of agriculture and rural areas and the digitisation of cultural heritage. Like last year's Digital Day, which was dedicated to the Blockchain, artificial intelligence, the "Innovation Radar" and e-Health, the Grand Duchy again signed all the declarations, thus supporting European cooperation towards the achievement of joint numerical priorities.
In order to tackle the under-representation of women in the digital world, the signatories pledged to work together with authorities at all levels. In this context, European states are obliged to adopt a national intersectoral strategy. While encouraging the audiovisual media to fight against stereotypes, the declaration proposes the establishment of a European day for girls and women in the ICT sector. Finally, the states agreed to hold a ministerial meeting in 2020 to measure progress by then.
The representatives similarly signed a declaration recognising the potential of new technologies to meet the challenges facing the agricultural sector, particularly at the economic, societal, climate and environmental levels. The declaration thus proposes to strengthen cooperation around three pillars, namely, strengthening research efforts, establishing an innovative infrastructure and creating a European data space for the development of innovative solutions for the agri-food sector.
Luxembourg also signed the declaration on the digitisation of cultural heritage, the signatories of which have agreed to double their joint efforts to advance pan-European initiatives in the field of the digitisation of 3D artifacts, monuments and cultural heritage sites. The declaration ultimately aims to improve cross-border cooperation across all areas of digitisation of cultural heritage.
Finally, the High Level Expert Group on Artificial Intelligence presented its ethical guidelines for trustworthy Artificial Intelligence (AI). By asserting that compliance with all laws and regulations is a sine qua non for trustworthy AI, the guidelines put forward a series of criteria to verify the reliability of applications in this field, namely human factor and human control, robustness and security, respect for privacy and data governance, transparency, diversity, non-discrimination and equity, societal and environmental well-being and accountability.