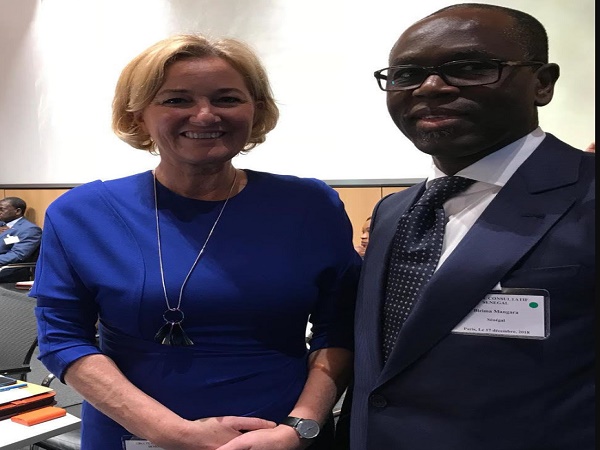 Luxembourg Minister of Cooperation and Humanitarian Action Paulette Lenert and Senegal President Macky Sall; Credit: MAEE
Luxembourg Minister of Cooperation and Humanitarian Action Paulette Lenert today participated in the Consultative Group on Senegal in Paris.
The main objective of the Consultative Group, chaired by the President of Senegal Macky Sall and organised with the support of the World Bank and the United Nations Development Program (UNDP), was to present the second phase of the Senegal Emergent Plan.
The plan serves as a reference framework for the interventions of development actors in Senegal and its investment opportunities to public and private partners in order to mobilise the necessary financial resources to finance the development of the country from 2019-2023. According to President Sall, the convincing results of the first phase of the PES, with sustained economic growth, constitute "a source of motivation that invites us to stay the course, to improve our performance and to do more and better by accelerating the reforms".
Minister Lenert welcomed in this context the important role devoted to the private sector as an engine of growth and sustainable development. She highlighted Luxembourg's commitment, through its new general strategy of development cooperation, to capitalise more on its know-how as an international financial centre and in the ICT sector, to stimulate public-private partnerships and innovative financing instruments.
Luxembourg will continue to support Senegal on its emergence trajectory. In the framework of the 4th Indicative Cooperation Programme (ICP IV, 2018-2022), Minister Lenert confirmed Luxembourg's commitment to contribute more than €65 million to the achievement of Senegal's development objectives.
In the context of bilateral cooperation between Luxembourg and Senegal, a particular focus will be on innovation and youth. In this sense, the establishment of a vocational training centre in Dakar dedicated mainly to ICT will facilitate the innovative character not only of the Senegalese economy but also of cooperation between Senegal and Luxembourg.