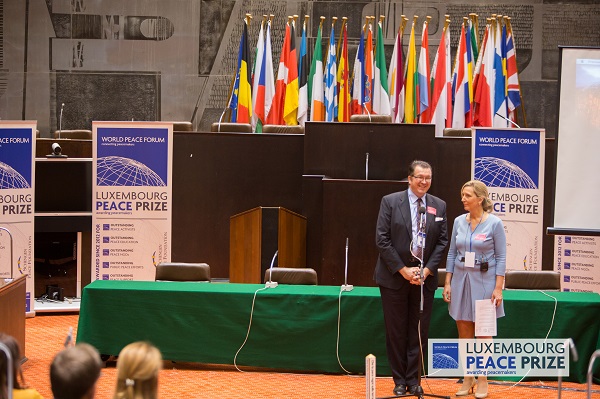 L-R: Dominicus Rohde, Vicki Hansen at the 2016 Luxembourg Peace Prize event;
Current events in Ukraine have reminded us all the delicate balance between conflict and peace.
As I write this, Russian forces are bombarding the city of Kharkiv in the east of the country, with a massive army rolling its way towards Kyiv, the capital city in the north. Ukraine nationals and residents are fleeing across the borders, into Poland and Romania in particular.
To give us an idea of the size of the country, Ukraine comprises 603,000 km2; this compares to Germany's 357,000 km2, France's 551,000 km2 and Poland's 312,000 km2. Ukraine's population stands at 41 million; this compares to Germany's 83 million, France's 65 million and Poland's 38 million. In its capital, Kyiv, the population is around 3 million people (the seventh-most populous city in Europe), with around 1.5 million in Kharkiv and around 1 million each in Odesa, Dnipro and Donetsk.
This news would have made a good friend of mine, Dominicus Rohde, very sad indeed.
Dominicus unexpectedly and tragically passed away on 1 February aged just 53 years old. He was in Argentina with his family when he suffered a sudden cardiac arrest. He is survived by his wife Lia and seven children.
They had lived in Germany, just across the border from Schengen which is where he founded the Schengen Peace Foundation in 2005. It was in this context that I met him and got to know him.
At that time he was importing wines from Argentina, the country of birth of his wife, and other South American countries. He introduced his wines at an event my wife and I hosted at our home, and he also provided some of his wines for a wine tasting challenge at the annual Discover Luxembourg event I have been organising annually for over ten years now. He also organised a large group to attend a BIFFL screening of the film "Andrew Carnegie: Rags to Riches, Power to Peace" (https://www.imdb.com/title/tt4515456) in September 2015.
His family moved to Argentina where he started a big agricultural project producing pecan nuts. At this time he also put a lot of effort into establishing a "nut fund" for which he had been looking for investors.
One of the last times I met Dominicus and his family was at the wedding of one of his sons in Vilnius, Lithuania, three and a half years ago now, at which his love and commitment to his family shone through, as did his Catholic faith. We met a number of times since then, but the COVID-19 pandemic affected and interrupted his time in Europe. I remember when he sent an endearing video message on the occasion of my 60th birthday last July; we were then supposed to meet in August during his last trip to Europe when he and Lia visited his son and daughter-in-law in Berlin soon after their first child, Dominicus' and Lia's first grandchild, was born. We talked then but could not meet up; I still have many of Dominicus' voice messages on my phone.
Dominicus embodied the European spirit: he was German by birth and was educated in French, but it was his passion for peace that will be my strongest memory, or set of memories, of him. I remember being one of the volunteers at the World Peace Forum held in Schengen and helping both beforehand and during the annual events which attracted activists, educators, leaders and artists from all corners of the globe. Later the Luxembourg Peace Prize was born and this moved to the Schuman building of the European Parliament in Luxembourg. The seat of the Schengen Peace Foundation also moved from Schengen to Luxembourg-ville.
I recollect an anecdote, or rather an example, that he frequently used as an opening to speeches he made. He recalled that his father as well as the father of Xavier Heude (who was also volunteering his time for the World Peace Forum) were engaged during WWII on opposite sides to kill the enemy, for example, and talking up the ideals of European Union which has seen the longest period of peace in history since then. Dominicus' spirit certainly embodied the EU ideals.
At this time and at various times more recently, I discussed various issues with Dominicus in the overall structure and organisation of the Schengen Peace Foundation, the World Peace Forum and the Youth World Peace Forum which has also been running for a few years now, including addressing the topic of governance and accountability at the World Peace Forum which has now grown to include annual events in different continents, as had the Youth World Peace Forum.
We enjoyed many meals together - quite often curries - at which we discussed the Schengen Peace Foundation and related activities, as well as his other projects and also events I was organising; we hoped to work together on a (commercial) project but that never came to pass. One November, Dominicus joined us for a family Thanksgiving dinner we were having as our future son-in-law is American. And one of our girls stayed with him and his family in Argentina for a number of months after graduating from university.
The 10th annual Luxembourg Peace Prize is being held on 17 June this year. Upon talking recently with Vicki Hansen, President of the Committee (whom I originally introduced to Dominicus), she confirmed that this year's event will honour Dominicus and that a memorial service will be held at the Cathedral in Luxembourg-ville.
Dominicus was a peace entrepreneur and a visionary, and I will remember his for those qualities as well as for his infectious enthusiasm and dedication to the causes in which he believed, advocated and fought for so strongly. His legacy will live on through his family and the Schengen Peace Foundation together with its events, as well as through the sustainable agriculture project in Argentina which he was developing.
Dominicus was my friend. He was everybody's friend.