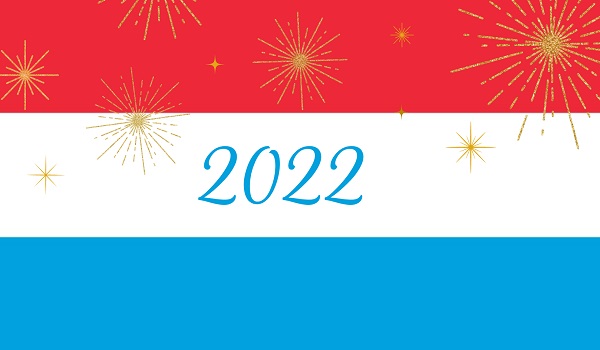 We are now three weeks in to the "new" year. 2022 began in much the same way as 2021 ended, with COVID-19 still dominating the news.
The new year started with His Royal Highness the Grand Duke testing positive for coronavirus (despite being vaccinated). Suffering just mild symptoms (according to the Grand Ducal Court), the self-isolating Grand Duke Henri led the swearing-in ceremony of three new government ministers via videoconference from Berg Castle. This leads us to one of the most significant changes the new year has brought to Luxembourg's political scene (so far): a government reshuffle.
Politics
At the end of November 2021, the Luxembourg Socialist Workers' Party (LSAP) announced that government ministers Dan Kersch and Romain Schneider would resign at the start of January 2022. Paulette Lenert, Minister of Health, Minister for Consumer Protection and Minister Delegate of Social Security, was chosen to succeed Mr Kersch as Deputy Prime Minister, whilst Georges Engel would take over the roles of Minister of Sport and Minister of Labour, Employment and the Social and Solidarity Economy. Claude Haagen was named Mr Schneider's successor as Minister of Agriculture, Viticulture and Rural Development as well as Minister of Social Security.
Shortly thereafter, Pierre Gramegna of the Democratic Party (DP) unexpectedly announced his plans to resign as Minister of Finance after eight years in the role. The DP later confirmed Yuriko Backes, former Marshal of the Grand Ducal Court and Head of the Representation of the European Commission in Luxembourg, as Mr Gramegna's successor – and the first female finance minister in Luxembourgish history. Like her predecessor, Ms Backes joined the DP only shortly before being sworn in as finance minister. Despite lacking a background in finance, Ms Backes has had an extensive diplomatic career in Luxembourg and abroad – experience which could prove vital in her new role.
On 5 January 2022, Paulette Lenert officially assumed the role of Deputy Prime Minister, in addition to retaining her ministerial portfolios, and Georges Engel, Claude Haagen and Yuriko Backes were sworn into the Luxembourg Government.
The question now is: what impact (if any) will these fresh faces have on Luxembourg's political scene? Last year, Paulette Lenert emerged as Luxembourg's most popular politician, according to a series of surveys published by market researcher TNS Ilres. Similar polls, however, indicated that the current "Gambia" coalition government (so-called because of the red, green and blue colours of the three ruling parties, which match the Gambian flag) would lose its majority in the next national elections. Indeed, division appears to persist among the Luxembourgish population over the government's handling of the COVID-19 pandemic (as evidenced by the continued weekend protests). The typically popular Prime Minister Xavier Bettel had also drawn criticism last year when it was revealed he had largely plagiarised his university dissertation. He later admitted that the thesis "should have been done differently" and we haven't heard a lot about it since.
Will this shake-up (including the stronger presence of the people's favourite, Paulette Lenert) improve the chances of a "Gambia" re-election when the public go to the polls next year? At present, this remains uncertain. With over one year to go until the October 2023 elections, and a pandemic whose end may or may not be in sight, politicians still have everything to play for.
Economy
Having spoken with several representatives of the events and hospitality sector, which have been some of the sectors hit hardest by the pandemic and related restrictions, there appears to be optimism that the worst economic damage is behind us. That being said, the end-of-year restrictions including a curfew for the hospitality sector effectively "cancelled" New Year's Eve celebrations in Luxembourg and certainly had a damaging effect on businesses in the sector during what was traditionally one of their busiest periods.
Overall, Luxembourg's economy appears to have weathered the crisis well. At the end of December, during his final budget speech as finance minister, Pierre Gramegna noted that the Luxembourg Government had spent €390 million on health measures since the pandemic began. It had also introduced subsidies for businesses including short-time working, which had cost the state a total of €810 million by the end of last year. Whilst such measures failed to cover all the losses linked to the pandemic, they certainly helped a lot of companies stay afloat. Notably, there has not (yet) been a significant increase in bankruptcies or liquidations compared to the pre-pandemic period. In October 2021, for example, 78 companies were declared bankrupt, compared to 153 in October 2020 and 124 in October 2019. This alone shows promising signs of economic recovery in Luxembourg.
On the other hand, global fuel prices rose significantly in 2021 – a trend which unfortunately looks set to continue this year. In Luxembourg, the price of Unleaded 95 octane petrol (E95) increased by over 25% between January and December 2021. The highest prices were recorded at €1.526 per litre between mid-November and mid-December. Diesel prices rose by over 29% during this period, peaking at €1.418 per litre between late-October and early-November. Heating oil recorded the highest yearly increase among the three, up by almost 42% between the start and the end of 2021.
Similarly, it appears likely that Luxembourg housing prices will continue to rise in 2022. STATEC figures showed that the price of housing increased by over 13% in the third quarter of 2021 compared to the same period in 2020 - the same year-on-year increase as seen in the second quarter of 2021. Before that, in the first quarter of 2021, housing prices were more than 17% higher than in the same period one year earlier. This marked the highest annual change recorded since 2013.
2021 was also characterised by global supply chain shortages. One expert, Prof. Benny Mantin, told Chronicle.lu last month that Luxembourg was geographically well placed and had potential to become a key logistics hub, but challenges remain. And these challenges are set to continue into the new year…
Like elsewhere in the world, inflation was high in Luxembourg last year, with the average annual inflation rate reaching 2.5% - up from 0.8% at the end of 2020. Moreover, whilst the unemployment rate continued to drop in the Grand Duchy (5.2% at the end of December), long-term unemployment (i.e. jobseekers registered with ADEM for at least twelve months) remained high, representing half of available resident jobseekers at the end of 2021.
The floods of 14-15 July 2021, which were declared a natural disaster, also had a negative impact on the economy and people's livelihoods last year. Three months after the flooding, the Luxembourg Insurance and Reinsurance Association estimated the total cost of damage at €125 million. With extreme weather events appearing to become more frequent worldwide due to climate change, we can only hope that 2022 will not see similar incidents take place. The fact that more needs to be done to fight climate change is another matter...
Despite these challenges, the national statistics office, STATEC, predicted last month that the Luxembourgish economy would grow by 3.5% in 2022. Similarly, the European Commission's "Autumn 2021 Economic Forecast" predicted GDP growth of 3.7% this new year.
Culture & Sport
After a lot of preparation over the past couple of years, the Esch2022 – European Capital of Culture project will finally launch on 26 February 2022. In fact, this journalist just recently received her "golden ticket" to the official "Remix Opening", which is taking place across two sites: the city centre of Esch-sur-Alzette and Esch-Belval, from 16:00. The Esch2022 cultural programme will run throughout the year, with events taking place across ten Pro-Sud municipalities in Luxembourg and eight municipalities across the border in France. On the agenda are workshops, competitions, dance performances, literary events and much more!
We also have some big artists coming to Luxembourg this year (pandemic permitting), including: Scottish singer-songwriter Amy MacDonald, English rock legends Status Quo, Scottish rock bands Franz Ferdinand and Biffy Clyro, US singer-songwriter Alicia Keys, English singer-songwriters Rag'n'Bone Man and James Morrison, Welsh singer Tom Jones, US bands OneRepublic, The Offspring, Black Eyed Peas, Imagine Dragons and The Killers (the last three will perform at the Open Air Belval festival, organised by Rockhal in association with Esch2022), and Austrian act Parov Stelar. Several of these concerts have been rescheduled from earlier dates due to COVID-19 restrictions. Hopefully, with restrictions easing and spring approaching, these shows can finally go ahead.
Other cultural highlights this year include the Festival of English-language School Theatre (FEST) and Festival of European Anglophone Theatrical Societies (FEATS), which are both set to take place at Mierscher Kulturhaus in Mersch, albeit at different times (March and May respectively). Moreover, the Coque sports and cultural centre, which is celebrating its 20th anniversary this year, will host the "Our Planet Live in Concert" event in October, giving the Luxembourgish public the chance to experience the Emmy Award®-winning Netflix documentary live, accompanied by an orchestra ensemble.
A personal sporting highlight for me this year is the Luxembourg v Northern Ireland friendly football match at the new Stade de Luxembourg in March. Why is this so interesting you may ask? Well, this Luxembourg-based journalist is originally from Northern Ireland...
"Team Lëtzebuerg" is also sending two athletes to the 2022 Winter Olympics in Beijing, China next month. The Luxembourg Olympic Committe (COSL) recently selected Gwyneth Ten Raa and Matthieu Osch to represent the Grand Duchy in alpine skiing at the Olympic Winter Games, which will run from 4 to 20 February.
Abroad
Despite it already being 2022, Dubai is still hosting Expo 2020. Delayed by the pandemic, this World Expo was originally scheduled to take place from October 2020 to April 2021 but was pushed back to October 2021 and remains open until the end of March this year.
Whilst government ministers will not be travelling to the United Arab Emirates (UAE) to represent the Grand Duchy on 23 January, on the occasion of Luxembourg Day, again due to the pandemic, the sustainability missions are still going ahead as planned and the Luxembourg pavilion at the World Expo has prepared a series of activities around the theme of "Resourceful Luxembourg".
COVID-19
Whilst it is difficult to predict how the pandemic will evolve, we have already seen changes to government measures in Luxembourg this year. On 15 January, the mandatory 3G CovidCheck rules in the workplace came into force. These rules, which had already been announced at the end of November in response to rising case numbers, require employees to present a valid vaccination, recovery or negative test certificate upon their arrival at their workplace each day. Of course, between the announcement of these rules and their implementation earlier this month, we have seen restrictions been tightened further (over Christmas) and then relaxed again... The latest changes to the COVID-19 law, which were approved in the Chamber of Deputies (parliament) on 11 January, saw a reduced isolation period for people who have been fully vaccinated within the last six months, those having recovered from the virus (less than 180 days since a positive PCR test) and those having received their booster jab, provided their rapid antigen test results come back negative on days five and six of isolation. The changes also set the general validity period for vaccination certificates at 270 days (nine months) after a complete vaccination schedule, in line with European Union (EU) standards. Finally, the amended law introduced certain exemptions to the existing CovidCheck 2G+ (vaccinated or recovered plus a test) regime.
Another major topic this new year has been the potential introduction of a vaccine mandate. Decisionmakers, as well as experts and the general public, remain divided on the subject. A group of medical experts recently recommended a vaccine mandate for people aged 50 and over as well as healthcare workers, whilst the national ethics council favoured a generale mandate for all adults. Similarly, government meetings on the matter remain inconclusive.
A lot of uncertainty also remains concerning the Omicron variant, which is now dominant in Luxembourg and with which the World Health Organization (WHO) estimates more than half of Europeans will be infected in the next six weeks or so...
We should have a better idea of the situation in the coming weeks and months. And with people getting their booster jabs and children now able to get vaccinated, hopefully this situation will not be as bad as expected.
In any case, masks, social distancing, CovidCheck certificates and ever-changing restrictions appear to be here to stay - at least in 2022.