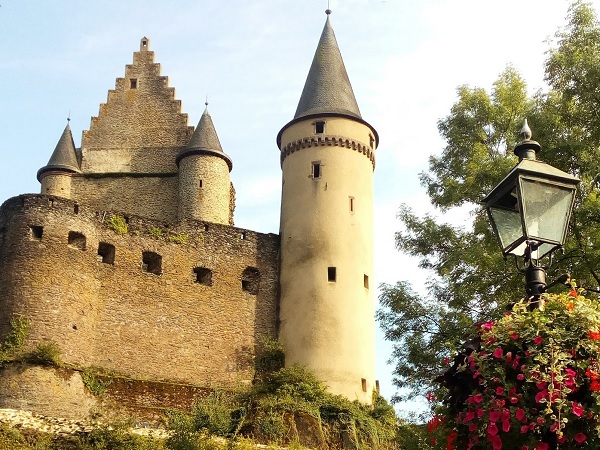 Vianden, two trains and a bus later...; Credit: Jazmin Campbell
I am writing this as I sit on the bus from a small town in central Luxembourg to the capital. The town is just a 20-minute car ride north of Luxembourg City, or 30-40 minutes by bus. The fact that it takes almost twice as long to get to the city with public transport doesn't bother me much, since it's often an enjoyable journey through some of the country's scenic rural villages and it gives me time to read or write. Plus, it's incredibly cheap: just €2 one-way or €4 for a day ticket (and soon to be completely free!) that is valid throughout the whole of the Grand Duchy.
Public Transport
Okay, the whole of the Grand Duchy isn't exactly big. With an area of 2,586 km2 (999 m2), Luxembourg is one of the smallest countries in the world. So you would think that getting around would be easy at least, right? Certainly, if you have a car. As much as I love my adoptive country, and I really do, it's the only place I've ever lived where I've felt like there's no option but to learn how to drive. Let me be clear, there's absolutely nothing wrong with the buses and trains in terms of cleanliness and comfort, especially those outside the capital, and the developing tram network is a really great initiative. However, to get from one point of this small country to the other using public transport (and bear in mind that it only takes around an hour and a half to get from one side to the other by car), you nearly always have to first travel to Luxembourg City and then change buses or trains at least once.
One personal experience stands out in my mind: during my time as a a student living in Belval, I sometimes had guests visiting and of course, I wanted to show them some of Luxembourg's most popular tourist spots, like Larochette and Vianden. These are pretty far even by car by Luxembourg's standards, but public transport takes it to a whole other level: to get from Belval, where the university and a lot of students (most of whom are not from Luxembourg and do not have a car here) are based, to Larochette by car, you need around 45 minutes. By public transport, you need roughly an hour and 45 minutes. Now that might not sound too bad, except the journey involves taking a bus and a train, two trains and a bus or three different buses. Similarly, to get to Vianden from Belval, you need about two hours during which time you need to change at least once. If you miss one of those connections, you could be waiting for half an hour or longer. At the same time, public transport is free for students, so I suppose that makes up for it in a way. And yet, I am now no longer a student and my public transport woes are far from over: I am routinely stressed out about missing work events, most of which are in Luxembourg City and so should be easy to reach, due to (un)expected delays – despite always leaving at least one hour in advance!
Cars, cars and more cars
But still, at least you get to your destination in the end (albeit often later than planned). That is, if you survive the roadside walk to some of the bus stops outside the capital. Okay, I'm exaggerating here, but still I have to say I don't feel entirely safe walking along the busy, unlit road from my house to get to the nearest bus stop, with nothing but muddy grass separating myself from the oncoming traffic. The fact that the bus stop is a Park & Ride just confirms my feeling that priority is given to motorists in this country. Despite attempts to promote the use of public transport and reduce its carbon footprint, Luxembourg remains a country that worships cars. Indeed, Eurostat revealed it to be the country with the most cars per capita in the EU (670 cars per 1,000 inhabitants in 2017).
As someone in their mid-20s who (still) doesn't have a driver's licence, I can confirm that I feel like an alien here at times. When I first arrived in Luxembourg, I remember thinking I'd never seen so many fancy cars (and men in suits) before. Now, I just feel like I've never seen so many cars in general, all squished like sardines into such a small space. Just look at Luxembourg City, where some 200,000 cross-border workers come and go each day – mostly by car. What should be a relatively short journey to/from their homes across the border in France, Belgium and Germany results in significant traffic jams at least twice a day. Perhaps traffic would be better for everyone involved if some businesses were moved out of the capital. After all, in a small country such as Luxembourg, distances aren't that significant (at least in theory). But no, currently almost all the main companies are based in Luxembourg City, where traffic is worsened further by a crazy amount of (seemingly endless) roadworks.
Roadworks
This brings me to my next point: Luxembourg City is currently reminiscent of a fairy tale land on the one hand and a scene out of the post-apocalyptic video game "Fallout" on the other. The latter resulting from the vast number of construction sites spread across the capital (and further afield). Sure, these works normally make life better in the long-term, for instance with the introduction of the tram, and it's truly uplifting to see how much investment is being put into infrastructure, but in the short-term, these works have created chaos for all road users. Where's the bus stop gone? Oh great, now I'm going to miss it! Oh lovely, another closed-off street! Not even Google maps can keep up with the rate of changes. On the upside, everyday is an adventure – as long as you don't mind being late for everything.
On another positive note, Luxembourg will soon (from March 2020) be the first country in the world to make public transport free (hopefully also more efficient), the City of Luxembourg has announced several plans for an increasingly car-free and pedestrian- and cyclist-friendly city centre (although they also said that this would mean even more disruptive roadworks next year), and it is clear that the Government is investing a lot of resources in the country's infrastructure and trying to reverse its reputation as one of the world's worst offenders for greenhouse gas emissions.
As a concluding remark, I recognise that this has been a bit of a rant but I promise I'm only being so critical because I feel at home here and care about making Luxembourg an even better place to work and live. So here's to an ever-evolving, ever-improving Grand Duchy!